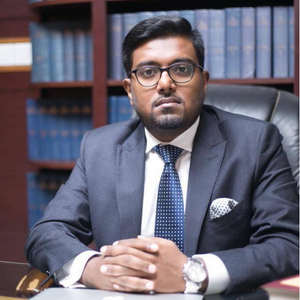 Muddasir Hossain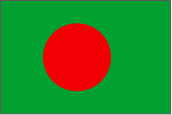 Bangladesh
Mohammed Muddasir Hossain is a Partner at Hossain & Khan Associates (H&K). He was called to Bar of England and Wales from the Hon'ble Society of Lincoln's Inn in 2006 after graduating with LLB Hon's from University of London. He also obtained LLM from University of Toronto, Canada and a Post Graduate Diploma in Legal and Professional Skills from the City University, London. He is an experienced advocate, appearing regularly before the Supreme Court of Bangladesh (SCB). He is a member of Bangladesh Supreme Court Bar Association (BSCBA) and Barristers Association of Bangladesh (BAB).
Mohammed has over 15 years of experience in broad range of constitutional, corporate, and commercial practice in Bangladesh. He primarily focuses his practice on constitutional and commercial litigation, arbitration, sports-law, aviation, data protection regime and energy and telecommunication. As a constitutional litigator, he is a strong advocate and promoter of rule of law. He has always taken keen interest in the activities of CLA as it provides a global platform for members of legal fraternity worldwide to promote the concept of rule of law.
Due to his keen interest in the activities of CLA, Mohammed participated as a guest in the "CLA and Malaysian Bar Symposium on Constitutional Law" and the "International Malaysia Law Conference", both held in 2018;as a speaker in the recorded conversations arranged by CLA, in collaboration with the Bar Council of England and Wales, on "What Impact is Covid-19 Having for the Administration of Justice in the Asia Pacific Region?" ;in a CLA Webinar on "How the legal fraternity is grappling with the issues concerning Rule of Law during the pandemic?". He also arranged participation of Mr. Amin Uddin, President of BSCBA, who is currently the Attorney General of Bangladesh and ex-Officio Chairman of Bangladesh Bar Council.
Other notable professional/organizational experiences of Mohammed include:
Appointed as an Election Commissioner for the Board of Directors Election (2021) of Bangladesh Cricket Board, the regulatory body of cricket in Bangladesh.
He is the Founder and Chairman of Bangladesh Lawyers Cricket Club and a member of the International Committee of Lawyers Cricket World Cup (LCWC). He has successfully arranged participation of Bangladeshi lawyers in LCWC held in (a) Australia in 2014-2015, (b) Sri Lanka in 2017, and (c) New Zealand in 2019.
Appointed as a member of the Project Implementation Committee responsible for the construction of the Sheikh Hasina International Cricket Stadium.
He represented various clients including the only Nuclear Power Plant Company in Bangladesh, national airline, national sports organization, private economic zone, power generating company, international law firms, an American multinational financial services corporation pioneering in payment innovation and technology, and various private/public listed companies.
Council Membership would provide Mohammed an opportunity to serve the Commonwealth by contributing to projects relating to rule of law, a field in which he specializes. If opportunity arise, he would also like to be actively involved in regional issues and promote events, meetings etc. of CLA within Bangladesh. As a regular practitioner of SCB and a former law lecturer in various institutions, Mohammed will endeavour to facilitate vibrant exchanges with various organizations in cooperation with CLA to drive improvements in legal educations. Being the son of a Former Chief Justice of Bangladesh, he is a second-generation lawyer and, if elected, he can use his professional experience and contacts to strengthen links between CLA and members of legal profession/organizations in Bangladesh.