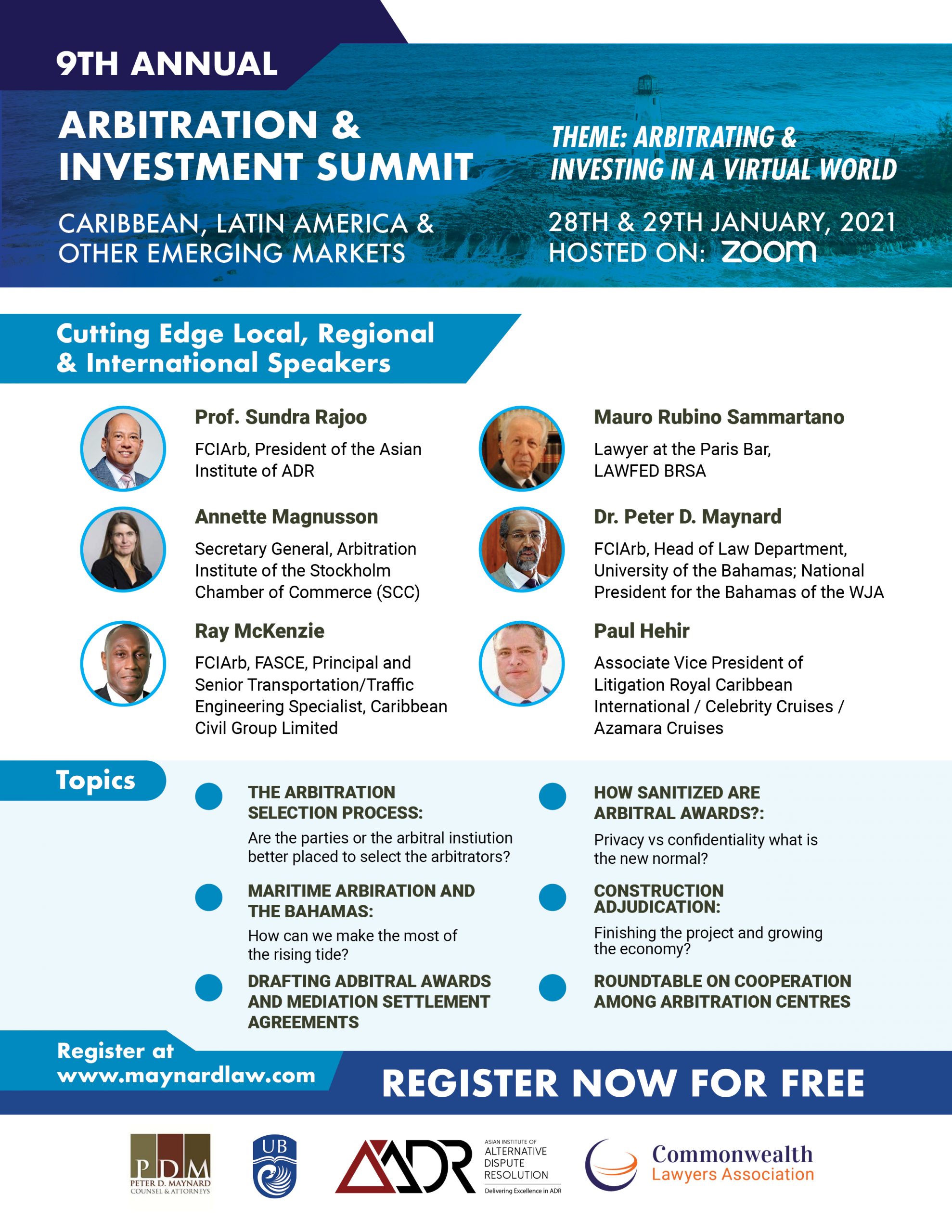 9th Annual Arbitration and Investment Summit for Caribbean, Latin America and other Emerging Markets : Arbitrating and Investing in a Virtual World
28th January 2021 - 29th January 2021
Share
Join the Zoom Summit to hear a panel of cutting edge local, regional and international speakers discussing arbitrating and investing in a virtual world.
Speakers :
Prof. Sundra Rajoo, FCIArb, President of the Asian Institute of ADR
Annette Magnusson, Secretary General, Arbitration Institute of the Stockholm Chamber of Commerce (SCC)
Paul Hehir, Associate Vice President of Litigation Royal Caribbean, International / Celebrity Cruises /Azamara Cruises
Ray McKenzie, FCIArb, FASCE, Principal and Senior Transportation/Traffic Engineering Specialist, Caribbean Civil Group Limited
Mauro Rubino Sammartano, Lawyer at the Paris Bar, LAWFED BRSA
Dr. Peter D. Maynard, FCIArb, Head of Law Department, University of the Bahamas; National President for the Bahamas of the WJA
Topics under discussion :
THE ARBITRATION ELECTION PROCESS: Are the parties or the arbitral institution better placed to select the arbitrators?
HOW SANITISED ARE ARBITRAL AWARDS?:Privacy vs confidentiality what is the new normal?
MARITIME ARBIRATION AND THE BAHAMAS: How can we make the most of the rising tide?
CONSTRUCTION ADJUDICATION: Finishing the project and growing the economy?
DRAFTING ADBITRAL AWARDS AND MEDIATION SETTLEMENT AGREEMENTS
ROUNDTABLE ON COOPERATION AMONG ARBITRATION CENTRES
Date : 28th and 29th January 2021
Register at : http://www.maynardlaw.com/
The event is free.