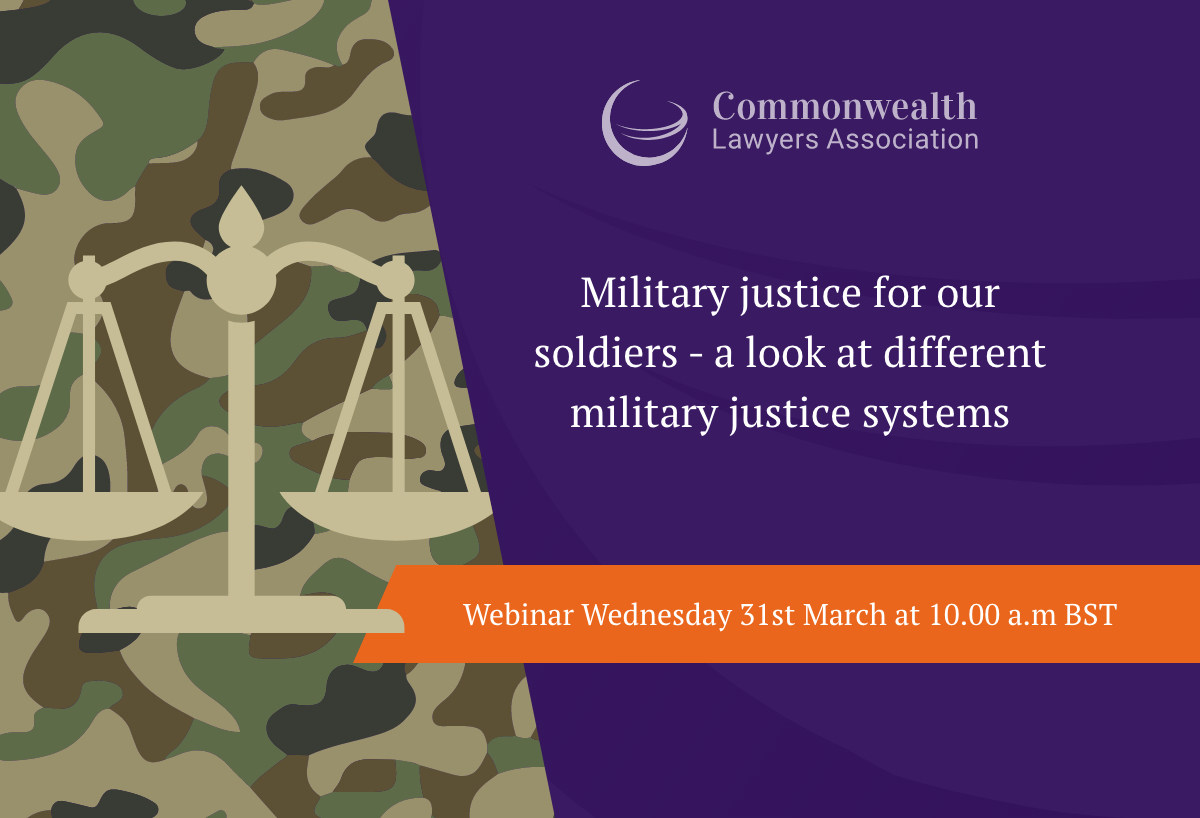 Justice for our Soldiers – a look at different military justice systems
With the revelations in the recent report on Australian Special Forces, military justice is in the news again.  This webinar compares the military justice systems of Australia, India, the UK and Zambia and examines the benefits and shortcomings of each system.  
DATE : Wednesday 31st March
TIME :
10.00 a.m BST, United Kingdom
11.00 a.m  CAT, Zambia
8.00 p.m  AEST, Australia
2.30 p.m  IST, India
Register here
The event will also be broadcast live on YouTube, you can subscribe to our channel here:
https://www.youtube.com/channel/UC4w8VAgIibHZjiVXpshOr2g
Chair :
Brian Speers  CLA President
Speakers:
His Honour Judge Alan Large, Judge Advocate General, UK
Brig. General Moses Phiri Rtd. Zambia
Col R. Balasubramanian, Rtd. Sr. Advocate of the Supreme Court of India
Alex Ward Barrister, Navy Legal Officer, Administrative Appeals Tribunal Member, Australia and CLA Council Member
There will be an opportunity for a Q&A with the panel at the end of the webinar via the chat function
Biographies :
His Honour Judge Alan Large
Alan Large joined the Royal Navy in 1979 as a University Cadet.  He read law at Manchester University and was subsequently selected by the Navy for further legal training as a Barrister.  He was called to the Bar in 1988 and served in legal and logistics roles on shore and at sea.  He was the Supply Officer in HMS BRAZEN during the first Gulf War.  He left the Royal Navy as a Lieutenant Commander in 1993 and pursued a career as a civilian Barrister on the Western Circuit.  He was Head of Chambers from 1999 and was appointed a Recorder in 2005 and Deputy (part-time) Judge Advocate in 2008.
In 2010 he was appointed an Assistant Judge Advocate General (full-time).  He served as Resident Judge with the Army in Germany from 2010 to 2013 and then as Resident Judge in Bulford from 2013 –2020.  He was appointed Deputy Judge Advocate General in January 2020 and Judge Advocate General later the same year.
Judge Large is an active member of the Commonwealth Magistrates' and Judges' Association and  enjoys working with colleagues from other jurisdictions, particularly in relation to legal issues affecting the armed forces.
Judge Large lives in Wiltshire with his family.
Brig. General Moses Phiri Rtd
Brig Gen Moses Phiri (RTD) retired from the Zambia Regular Air Force in 2019 having served for 40 years in the Regular Airforce. During that time, he was Director of Legal Services  from 2001-2011 and Air Force Secretary at the Ministry of Defence from 2011-2019. During the same period (2001- 2019) he worked as a Senior State Advocate at the Ministry of Justice and carried out numerous litigation cases on behalf of the Attorney General. Hewas a member of the Southern Africa Development Community (SADC) Military Legal Adhoc Working Group and represented Zambia on many United Nations C34 meetings. He was one of the presenters on the Seminar on Legal Procedures Leading to Asset Recovery (2008) in Lausanne. He also served as CEO on Defence Industry. Brig. General Moses holds a Bachelors degree in law (LLB) from the University of Zambia and a Masters degree in Aerospace ( MBA Aerospace) from Toulouse Business School in France. He is advocate in the High Court of Zambia. He is married with four children.
Col R. Balasubramanian,  Rtd
Col R Balasubramanian (Retired) holds a Masters Degree in Law. He is a Senior Advocate designated by the Supreme Court of India, where he is currently practicing. He has more than 35 years of legal and judicial experience in dealing with legal cases including but not limited to Constitutional law, Administrative law and Military Law. He was commissioned in the Judge Advocate General's Department of the Indian Army in 1985, and has held important legal positions in Indian Army He has written a number of articles/books on rule of law, peace keeping operations etc, and has participated in National and International Seminars on rule of law issues.   He was awarded the Vishist Seva Medal for Distinguished Service rendered in the Judge Advocate General's Department of the Indian Army by Hon'ble President of India on 26 Jan 06, besides number of Commendations including Special Commendations by the Special Representative of  the UN Secretary General  and Force Commander United Nations (2002) for exceptional devotion to peace keeping duties in UNMEE.  He is married and has a son who is also a practicing lawyer and is settled at New Delhi, India
Alex Ward
Alex Ward was the president of the Law Society of South Australia in 2004–2005, president of the Law Council of Australia in 2011 and president of the Commonwealth Lawyers Association 2015 to 2017.
He is a commander in the Royal Australian Navy and and the chair of the Military Legal Service Ethics Advisory Committee.
Alex is  a part-time member of  the Australian Administrative Appeals Tribunal and in that handles compensation cases for military personnel.