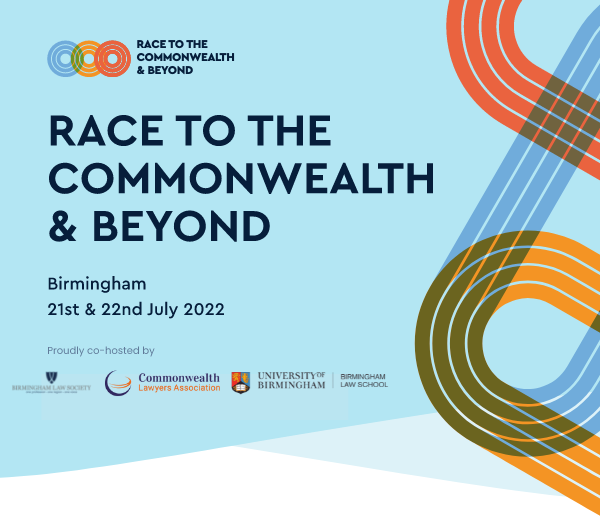 Equality and Diversity in Sporting Law on the Agenda at Two-Day Commonwealth Conference
21st July 2022 - 22nd July 2022
Share
A legal conference hosted by Birmingham Law Society, Commonwealth Lawyers Association and University of Birmingham, will explore equality and diversity in sport ahead of the Commonwealth Games 2022.
Taking place on 21st and 22nd July, the event will see up to 500 delegates come together from 54 Commonwealth countries. Over the two days, attendees will be involved in critical conversations covering a range of topics, including exploitation, ethics, privacy, race, and gender equality.
Stephanie Perraton, President of Birmingham Law Society, commented: "There are a number of extremely important topics that require joined up thinking across territories. In bringing legal professionals together, we hope to spark actionable outcomes for equality and diversity inside and outside of sport, for the future."
The first day will commence by exploring law in sport and its place in the modern game. Delegates can then attend sessions on child abuse and exploitation, data and privacy as well as race and what it means to the Commonwealth.
"Instances of sexual abuse and exploitation in children's sport as well as unsolicited use and sharing of data on a broader scale are threats that sadly still exist. By prompting game-changing conversations we hope to inspire the legal sector to focus on preventing such crimes," Stephanie explained. "There are other factors in play too, which we're keen to dive into on the second day of the conference."
Day two is about creating a level playing field and leads with arbitration and mediation. Subsequent sessions will explore gender equality and its legal challenges, sports contracts, and ethics and conduct in sporting regulation.
"Professionals attending will get the opportunity to enhance their visibility and reputation throughout the Commonwealth legal community, while networking and gaining access to top tier knowledge and insight," Stephanie added.
The event will be held at the University of Birmingham and is backed by a number of sponsors including the CLOUD SYSTEMS Group, Gowling WLG, No5 Barristers' Chambers, Cornwall Street Barristers and Tula Medical Experts. On day one, delegates can also attend the dinner for further networking opportunities, with several packages available to purchase. The dinner takes place at the Great Hall and the conference at the Teaching and Learning Centre.
DATE :  Thursday 21st and Friday 22nd July 2022
TIME:
8.30 am – 5.30 pm Thursday 21st July
8.30am- 3.00 pm Friday 22nd July
Register here