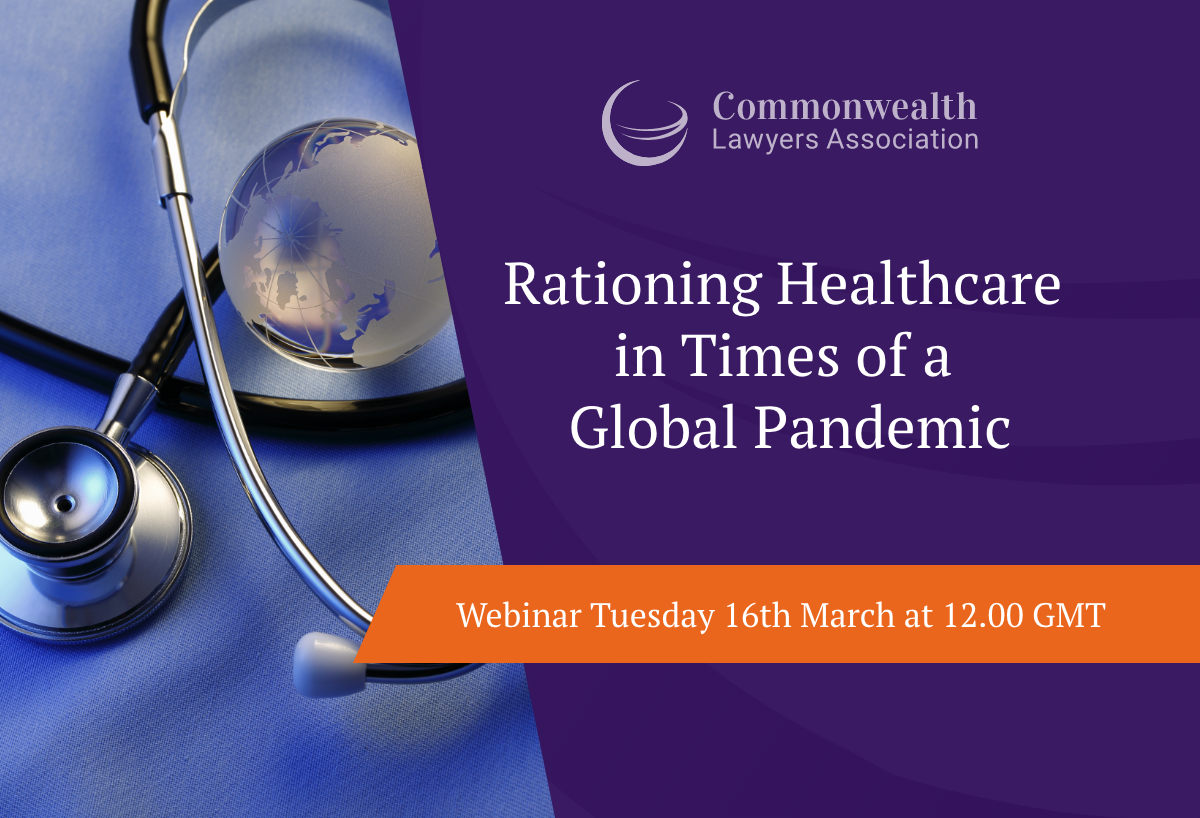 Rationing Healthcare in Times of a Global Pandemic
Many Commonwealth countries healthcare systems face unprecedented levels of demand. The media is reporting that many intensive care units are or are soon to be full. How does the law ration access to life saving healthcare and how do Commonwealth judges make such decisions? Is it even a question of law or is it really an ethical decision?
DATE : Tuesday 16th March
TIME :
12.00 p.m GMT, United Kingdom
7.00 a.m EST, Toronto
1.00 p.m WAT, Nigeria
8.00 p.m MYT, Kuala Lumpur
Register here
The event will also be broadcast live on YouTube, you can subscribe to our channel here:
https://www.youtube.com/channel/UC4w8VAgIibHZjiVXpshOr2g
Chair :
John McKendrick QC,  CLA Executive Committee
Keynote remarks :
The Hon. Mr Justice Hayden, Vice President of the English Court of Protection
Speaker panel:
Raja Eileen Soraya, Partner, Messrs Raja, Darryl & Loh, Malaysia,
Lori Stoltz, Morris+Stoltz+Evans LLP, Canada
Lauren Sutherland QC, Scotland
'La-olu A. Osanyin, Vice President (Africa), World Association for Medical Law (WAML), Nigeria
Fiona Scolding QC, Landmark Chambers,  England
There will be an opportunity for a Q&A with the panel at the end of the webinar via the chat function
Biographies :
Fiona Scolding QC
Fiona has practised as a barrister for 25 years, becoming a QC 5 years ago.  She practises in the area of social welfare , human rights and discrimination law with a particular focus upon health, education and social care.  She has advised charities, hospitals, doctors, and other organisations in the NHS about issues to do with prioritisation of resources since the pandemic begun.  In particular, she worked with a coalition of charities to help NICE to amend its guidance on assessing those with learning disabilities upon their presentation to hospital with Covid 19  so that they avoided making discriminatory assumptions about their health which would impact upon the care they may receive.
'La-olu A. Osanyin
'La-olu is an internationally renowned Medicolegal Consultant and Vice President of the World Association of Medical Law (WAML), serving on the Board of Governors of the World Association for Medical Law (WAML). He is a member of the American College of Legal Medicine.  He serves on the Board of the Nigerian National Health Research Ethics Committee (NHREC), and until recently was on the Ethics Committee of the American College of Legal Medicine. He currently serves as Chair, Committee on Medicine and the Law of the Nigerian Bar Association Section on Legal Practice. He is the Founder and Convener of the Nigerian Medical Law Summit and is the Chief Counsel of First Counsel Solicitors, a Medicolegal Consultancy Firm.
Raja Eileen Soraya
Raja Eileen Soraya bt Raja Aman is a partner with the firm, Messrs. Raja, Darryl & Loh in Kuala Lumpur, Malaysia.  She heads the Healthcare Practice Group in the Firm and is the Immediate Past President of the Medico-legal Society of Malaysia.  Eileen has been recognized by various publications as a Leading Individual in Dispute Resolution.  In June 2020, Eileen was listed in the inaugural edition of Benchmark Litigation Asia – Pacific Top 100 Woman in Litigation.
Lori Stoltz
Lori is a founding partner of Morris + Stoltz + Evans LLP.  For over 25 years, Lori has acted for patients and a broad range of health care providers, advocacy organizations and decision-makers across the Canadian health care delivery system.
Lori's diverse engagements on health-related matters have included: acting for patients and their families in medical negligence claims and complaints proceedings against physicians and other health care providers; advising patients, individual health care providers, institutions and advocacy organizations regarding the legislative framework that governs health care delivery, the public health system and clinical research; advising the Honourable A. Anne McLellan, former federal Minister of Health, as her Senior Policy Advisor on Medicare reform and other issues; and serving as Chair of the Health Protection Appeal Board.
Lori has had a career-long interest and engagement in public health matters, from a range of perspectives.  She is a co-author of Public Health Law and Practice in Ontario: The Health Protection and Promotion Act (2008) and has been engaged throughout the COVID-19 pandemic providing advice to local public health officials and others.stoltz@mselaw.ca
Lauren Sutherland QC
Lauren was called to the bar in 1996 and took silk in 2016. She specialises in clinical negligence and teaches widely to both doctors and lawyers on issues of medical law and ethics. She is ranked in Chambers UK Band 1 and in the Legal 500. She was invited to participate in the government review into the introduction of no fault compensation in Scotland. She was one of the legal team in the Supreme Court case of Montgomery v Lanarkshire Health Board and has written a book on consent post Montgomery. She was part of the government appointed team in the Vale of Leven Public Inquiry into Cdifficile.
Lauren runs a legal blog on issues related to medical law. www.ampersandadvocates.com