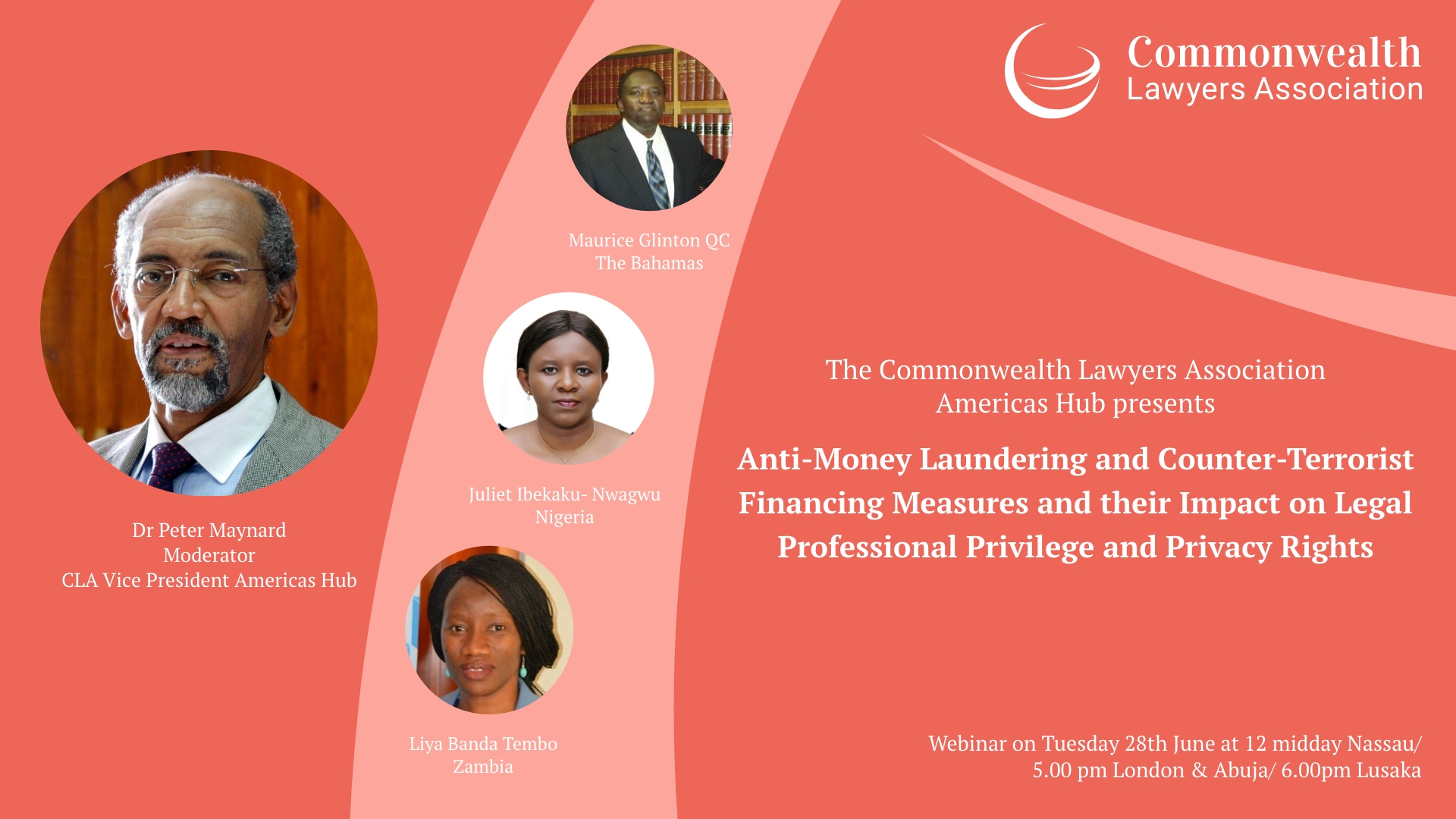 The CLA Americas Hub presents "Anti-Money Laundering and Counter-Terrorist Financing Measures and their Impact on Legal Professional Privilege and Privacy Rights"
Join the CLA Americas Hub at a webinar exploring "Anti-Money Laundering and Counter-Terrorist Financing Measures : Effects of Reporting on Legal Professional Privilege"
In an effort to combat money laundering and terrorist financing, many countries have entered into international agreements by which they undertake an obligation to establish a legislative scheme which involves disclosing suspicious transactions to specified authorities. This has led to conflicts with the long-established rights to privacy and legal professional privilege.
As a result, there has been controversy and litigation in several Commonwealth countries. In this Webinar on "Anti-Money Laundering and Counter-Terrorist Financing Measures and their Impact on Legal Professional Privilege and Privacy Rights", prominent practitioners and experts from different Commonwealth countries will examine the implications of these developments.
DATE : Tuesday 28th June
TIME :
17.00 London/Abuja
18.00 Lusaka
12 midday Nassau
Register here
Moderator:
Dr Peter Maynard, Vice President of the Americas Hub
Speakers:
Juliet Ibekaku-Nwagwu of Nigeria
Maurice Glinton QC of The Bahamas
Liya Banda Tembo of Zambia
Don Avison QC of Canada
There will be an opportunity for a Q &A with the Panel at the end of the webinar via the chat function.
Biographies
Dr Peter Maynard
Dr. Peter D. Maynard is CLA Vice President (Americas)
He is Senior Partner of Peter D. Maynard Counsel & Attorneys, a full-service commercial firm. His preferred areas of practice include complex civil litigation, and asset tracing and recovery. Having practiced for more than 40 years, he is also an arbitrator and mediator and engaged in the training of the next generation of lawyers, as Head of the Law Department of the University of The Bahamas.
He acted as a High Court Justice; Deputy Chair, Regional Judicial and Legal Service Commission of the Caribbean Court of Justice, Trinidad and Tobago; Newspaper Columnist; Economist at the United Nations, New York; later a Diplomat there; Legal Adviser of the Bahamas Ministry of Foreign Affairs, and Guest Scholar at the Brookings Institution, an economics think tank in Washington D.C.
Former President of the Organization of Commonwealth Caribbean Bar Associations and of the Bahamas Bar Association, he held leadership positions in several other lawyers' organizations, such as the International Bar Association (IBA), the World Jurist Association, and the Inter-American Bar Association.
Multilingual, he lived, studied and worked in Canada, Europe, UK, US and other jurisdictions. He has written widely. He also co-edited the book "Poverty, Justice and the Rule of Law" for the IBA. He founded over eight years ago the annual Arbitration and Investment Summit: Caribbean, Latin America and Other Emerging Markets.
He holds an LLM from Jesus College Cambridge and a PhD from Johns Hopkins University in international law, among other degrees and awards. He was called to the Bars of the Bahamas, England and Wales, Antigua- Barbuda, St. Lucia, St. Vincent and the Grenadines, Trinidad and Tobago, and Turks and Caicos Islands.
Juliet Ibekaku-Nwagwu
Mrs Ibekaku-Nwagwu is a Special Assistant to the President on Justice Sector Reform, International Relation from 2016 to Date with a focus on international asset recovery and management as well as the use of recovered assets for sustainable development.
She has (27) twenty-seven years postgraduate call experience and has worked extensively in the anti-corruption sector in Nigeria and internationally. She is also an international criminal law attorney and development expert. She was called to the Nigerian Bar as a Barrister and Solicitor in 1993. She has a Masters degree in International Human Rights, Humanitarian and Criminal Law and a postgraduate certificate in anti-corruption studies, investigation and prosecution of financial and economic crimes.
Ms. Ibekaku-Nwagwu has investigated several corruption cases and won an Egmont FIU Award for the Best Case while serving as Director of the Nigeria Financial Intelligence Unit of EFCC from 2012-2013. She was also instrumental in the removal of Nigeria from the FATF Non-Cooperating Countries or "Grey List" in 2013. She was victimized for her work for resisting the manipulation of intelligence and investigation reports by the previous administration of EFCC. She consulted for the Department for Security Services in the setting up of its Financial Crimes Investigation Unit. She is a recognized international expert on open government, anti-money laundering, financial crime and anti-corruption. She has done extensive work in the development of legislation on fraud, financial crime and terrorist funds.
Barrister Ibekaku-Nwagwu is an alumnus of University of Nigeria, Nsukka, University of Lagos, Nigerian Law School, Hague Academy of International Law, Netherlands, University of Hong Kong Program on Anti-corruption, University of Salzburg, Austria's program on international human rights and humanitarian law as well as the United States International Florida Bankers' Association. Most recently, she participated in a certificate course on Applying Behavioural Insights to the Design of Public Policy for Senior Executives, at the Harvard Kennedy School of Executive Education.
Through her work on governance, she has made significant contributions to the review of laws, regulations and procedures to strengthen anti-corruption institutional and legal measures in Nigeria and internationally.
Maurice Glinton QC
Maurice Owen Glinton QC is a Barrister and Counsel and Attorney in private practice at the Bahamas Bar in civil litigation, primarily in the areas of Constitutional and Administrative, corporate/Commercial law and extradition law. He read law at Cambridge University (St John's College) and is a member of Gray's Inn (London, England) having been admitted to the Bar of England and Wales in November 1980. He was appointed one of her Majesty's Counsel for the Bahamas in 2009.
He graduated from the University of Maine (Orono, Me.) in 1972 with a BA degree (Economics). He obtained an MA degree (international relations) in 1973 from Lehigh University (Bethlehem, Penn) as James Ward Packet fellow in the Graduate School of International Relations. He has appeared in all courts for the Bahamas and the Privy Council since being admitted to the Bahamas Bar in December 1980, and a member of the Turks and Caicos Islands Bar, being there admitted in September 1981.
In addition to litigating precedent constitutional and public law cases in the Bahamian Courts and at the Privy Council, Mr Glinton has authored articles on aspects of Bahamian constitution al law and other topical areas for local and wider publication.
He is a past Vice-President of the Bahamas Bar Association.
Liya Banda Tembo
Liya has over seventeen (17) years experience in regulatory compliance and enforcement of which ten (10) years is relevant to AML/CFT.  She has experience in assessing compliance of jurisdictions with FATF standards within the Eastern and Southern Africa region and in conducting money laundering and terrorist financing national risk assessment.  Liya is an advocate of the Supreme, Constitutional, Appeals and High Courts of Zambia. She served as a professional magistrate in the early stages of her career which enriched her experience in adjudication of high profile corruption cases prosecuted under the Task Force on Corruption. She has a Masters degree in International Development from the International University of Japan, LLB from the University of Zambia and a Post Graduate Diploma from Kings College, London.  Liya is a fellow of the Fletcher Leadership Program for Financial Inclusion with Tufts University in Boston, USA and is a Certified Anti-Money Laundering Specialist (CAMS).
Outside her work life, Liya devotes her time to early childhood education and offers literacy and numeracy lessons to less privileged children in her community. She also promotes financial inclusion among farm laborers in her community through savings and investments schemes with the aim of improving access to financing for better livelihoods.