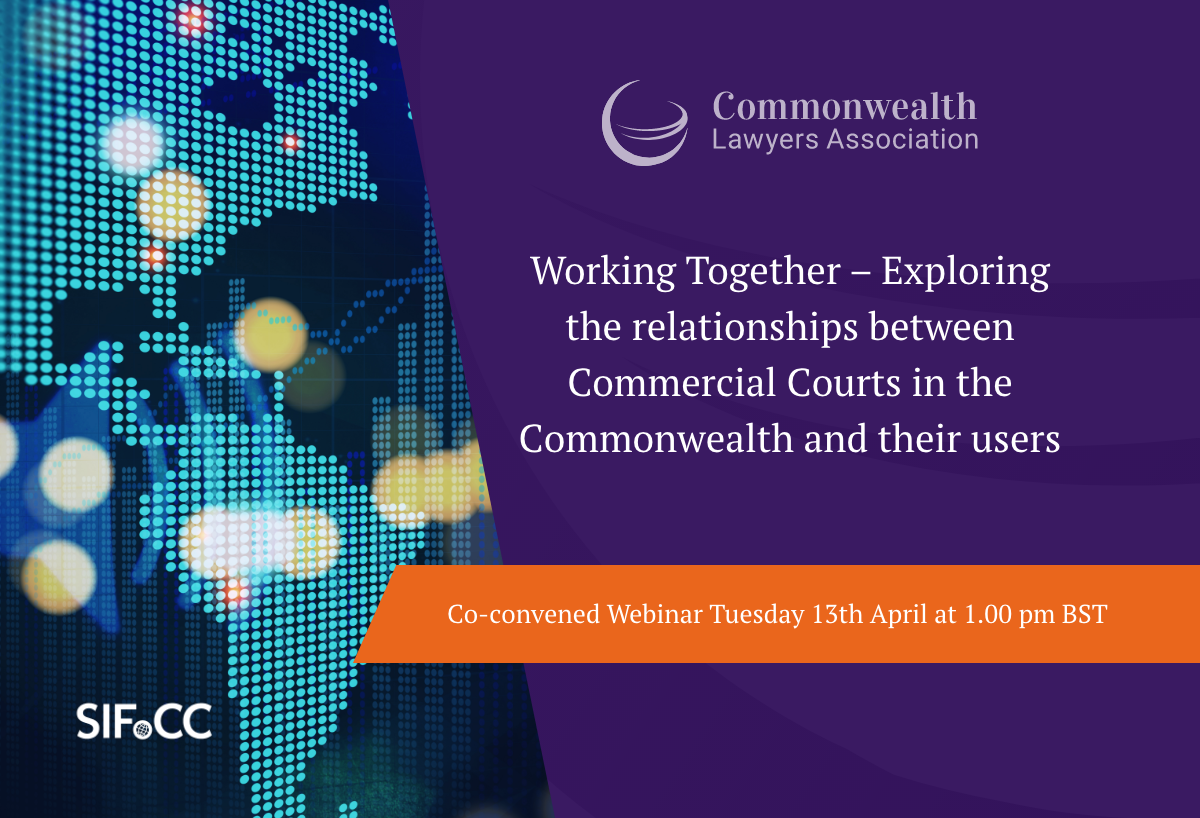 The CLA and SIFoCC : Working Together – exploring the relationships between Commercial Courts in the Commonwealth and their users
The Commonwealth Lawyers Association and the Standing International Forum of Commercial Courts are delighted to announce this forthcoming webinar collaboration.
The Standing International Forum of Commercial Courts was established in 2017 as a way of bringing together the commercial courts of the world to share best practice and play their part in furthering the rule of law. Subjects such as Case Management, Technology and Enforcement all part of SIFoCC's work, illustrate the way in which lawyers and courts work together towards shared aims. A diverse panel, comprising judges from the SIFoCC membership and Commonwealth lawyers, will consider how these subjects and others are developing in light of the changing world and the practical ways cooperation between the bench and lawyers can be maximised.
DATE : Tuesday 13th April 2021
TIME:
1.00 pm BST, UK
7.00 am, EST, Caribbean
3.00pm EAT, East Africa
8.00pm MYT, Malaysia
To register:
https://us02web.zoom.us/webinar/register/WN_P9gPbwMXQ2ildPkLGbj_FQ
The event will also be broadcast live on YouTube, you can subscribe to our channel here:
https://www.youtube.com/channel/UC4w8VAgIibHZjiVXpshOr2g
Chair:
The Honourable Mr Justice Robin Knowles, QC, SIFoCC
Opening Remarks :
The Right Honourable Lord Justice James Dingemans, QC, Court of Appeal, England and Wales
Panellists:
Chief Justice Justice Bryan Sykes OJ. CD, Jamaica
The Honourable Justice Datuk Nallini Pathmanathan, Malaysia
Jane Colston, Brown Rudnick, UK
Maria Mbeneka, Kimani Kabucho Mbeneka & Co Advocates and CLA Council representative, Kenya
Q &A
Closing Remarks :
Mr Brian Speers, President of the Commonwealth Lawyers Association
Biographies
The Honourable Mr Justice Robin Knowles QC
Mr Justice Knowles sits as a High Court Judge of the Queen's Bench Division and is a Judge of the Commercial Court and the Financial List. He is the Judge with day-to-day responsibility for the Standing International Forum of Commercial Courts and the Chairman of the Judiciary's International Training Committee. Before appointment to the High Court, he sat as a Recorder in the Crown Court for 15 years, and as a Deputy High Court Judge in both the Commercial Court and the Chancery Division. He is a qualified mediator and has sat as an arbitrator. He was elected a Bencher of Middle Temple in 2004 and was Chairman of the Commercial Bar Association (2005-7).
Mr Justice Knowles was involved in rewriting the Commercial Court Guide as part of the Woolf Reforms. He was a member of the Aikens working party on "supercases". With Sir William Blair, he worked successfully to secure the new Queen's Counsel system. With others, he led work to bring about the Rolls Building – the world's largest dedicated business dispute resolution centre. He is a member of the Financial Markets Law Committee, and of the Law and Ethics in Finance Project led by Sir William Blair. He is Chairman of the International Committee of the Judicial College of England & Wales.
A member of the Civil Justice Council, Mr Justice Knowles chairs its continuing work on access to justice for those without means. He has a career-long involvement in the encouragement and coordination of legal pro bono work, nationally and internationally, and is on the board of a number of charities in the field, including the Bar Pro Bono Unit and the National Pro Bono Centre. Master Knowles also serves on the Financial Markets Law Committee. He was awarded the CBE in 2007 for service to pro bono legal services.
The Right Honourable Lord Justice James Dingemans, QC
Lord Justice Dingemans was called to the Bar in 1987 and made a Queen's Counsel in 2002. Prominent moments in his legal career included appearing in constitutional cases from around the Commonwealth, including acting in pro bono death row cases in the Privy Council for persons appealing against their sentence of death, such as Bernard v The State [2007] UKPC; [2007] 2 Cr App R. 22, and against the constitutionality of the mandatory sentence of death, such as Miguel v Trinidad and Tobago [2011] UKPC 14; [2012] 1 AC 361. He was leading counsel to the Hutton Inquiry in 2003 and acted for the Express and Star newspapers in the Leveson Inquiry in 2011-2012.
He was appointed a High Court Judge in 2013 and sat in the Queen's Bench Division.  He was a Presiding Judge of the Western Circuit from 2014 to 2018.  He was appointed to the Court of Appeal in 2019 and has been the Vice-President of the Queen's Bench Division since February 2020.  He was appointed as lead judge for International Relations, which took effect from February 2021.
Lord Justice Dingemans played Rugby Union for a number of years and was a judicial officer at the Rugby World Cups in 2015 and 2019.
The Honourable Mr. Justice Bryan Patrick St. George Sykes OJ, CD, is an outstanding Jamaican Jurist and public servant who has rendered committed and dedicated service to the Justice system for over thirty years. He hails from the Parish of Portland on the eastern side of Jamaica.
Chief Justice Justice Bryan Sykes OJ. CD
Justice Sykes is a graduate of the University of the West Indies, where he pursued a Bachelor of Laws degree (1984) and Certificate of Legal Education(1986). He also holds a Master of Laws Degree from the University of Wales, College of Cardiff with an emphasis on intellectual property, international trade and transport, maritime law and credit and security, with a dissertation on moral rights in intellectual property (1994 to 1995). In 2002 received the Humphrey Fellowship (University of Minnesota, United States of America) with special focus on white collar and organised crime.
Chief Justice Sykes entered the legal profession 1986, and between then and 1988, he prosecuted in the Resident Magistrates Courts (now Parish Courts)while serving as Clerk of Courts. Chief Justice Sykes was invited to join the Office of the Director of Public Prosecutions (ODPP) 1988 where he held a number of positions from Crown Counsel to Senior Deputy Director of Public Prosecutions and has also acted as Director of Public Prosecutions. While at the ODPP he co-developed with Ms. Carolyn Davey (an Australian Attorney-at-law) the first and only programme devised for financial investigators in Jamaica and he was also one of Jamaica's representatives at the Caribbean Financial Action Task Force. Also, while at ODPP, he established the Unit that dealt with mutual legal assistance in criminal matters and money laundering.
On January 7, 2005, he was appointed as Pusine Judge of the Supreme Court, after acting for three years as same.
Chief Justice Sykes has articles published in West Indian Law Journal and Journal of Money Laundering Control and has contributed chapters in two books edited by Dr Shazeeda Ali – Risky Business: Perspectives On Corporate Misconduct, and Ethical Lawyer: A Caribbean Perspective.
He has been a tutor in Criminal Practice and Procedure at the Norman Manley Law School for over ten years and is a certified judicial educator and certified Teacher of Advocacy for Advocates between zero to five (0-5) years.
He was sworn in as the 8th Chief Justice of independent Jamaica, on March 1, 2018. He is married to Dr. Annette Crawford Sykes and together they have five children.
The Honourable Justice Datuk Nalini Pathmanathan
The Honourable Justice Datuk Nallini Pathmanathan began her legal career as an advocate and solicitor of the High Court of Malaya at Skrine in January 1986.  In 1995, she became a partner at Skrine.  She was then appointed a Judicial Commissioner in March 2007, and heard cases at the Shah Alam High Court (Criminal) before being transferred to the Kuala Lumpur High Court (Civil).  In October 2009, she was appointed a High Court Judge, and at the Kuala Lumpur High Court, she sat at the New Commercial Court and Admiralty Court.  In September 2014, she was elevated to the Court of Appeal. In November 2018, she was elevated to the Federal Court.
Jane Colston
Jane centres her practice on complex cross-border litigation. She has wide-ranging expertise in all aspects of asset recovery, including delivery up, freezing, search and disclosure orders. Chambers and Partners 2021 ranks Jane in Band 1 and states "Jane is one of the top fraud lawyers in London – she is incredibly clear in her strategic thoughts and knowledgeable about civil fraud procedure. She will look after a case properly and shake it up until she gets a good result for her client. An impressive lawyer who is resilient and finds an answer to everything."
Jane was awarded by Whos Who Legal "Asset Recovery Lawyer of the Year" for 2020.
Who's Who Legal 2021 named her a "Global Elite Thought Leader" and stated "Jane enjoys a stellar international reputation for her world-class work on high-value banking and finance, and corporate disputes".
Legal 500 2021 names Jane as Leading Individual and states: 'Jane Colston is a standout civil fraud litigator who deserves to be recognised as one of the very best litigators in London.'
Jane often acts as a Supervising Solicitor in regard to the execution of search and door-step delivery up orders. Jane leads Brown Rudnick's Supervising Solicitors team: http://www.brownrudnick.com/practice/supervising-solicitors/
Maria Mbeneka Mutua
Maria is a Partner of the firm Kimani Kabucho Mbeneka & Company (KKM) Advocates and has been in private practice for the past eighteen years. She is a council member of the Commonwealth Lawyers Association (CLA) representing East Africa and Seychelles. Maria is also the Chairperson of the County First Ladies Association (Kenya) and the First Lady of Laikipia County. A former council member of the Law Society of Kenya (LSK) Maria served as the Treasurer & General Member Representative for the period of 2018-2020. Maria is also the immediate former Vice President of the East Africa Law Society having served from 2016-2018.Maria has previously served as a member of the Industrial Property Tribunal from 2010-2013. While serving at the LSK she convened the ICT/IP Committee which took on Public Interest Litigation such as the NIIMS Petition, the Housing Levy Petition of 2018, consultative and public participation forums on Data Protection among other initiatives. Maria holds a Bachelor of Social Legislation Degree BSL and a Bachelor of Laws Degree from Dr. Babasaheb Ambedkar Marathwada University, Maharashtra-India; She holds a Diploma in Law from the Kenya School of Law. A trained Mediator, she also holds a certificate from the Mediators Training Institute MTI and is currently undertaking her Arbitration training with the Chartered Institute of Arbitrators. She is also a holder of FIDIC training certificate as well as the East Africa Institute. Maria Mbeneka is also a life member of the Kenya Red Cross Society where she serves as a member of the Election Grievances Committee.