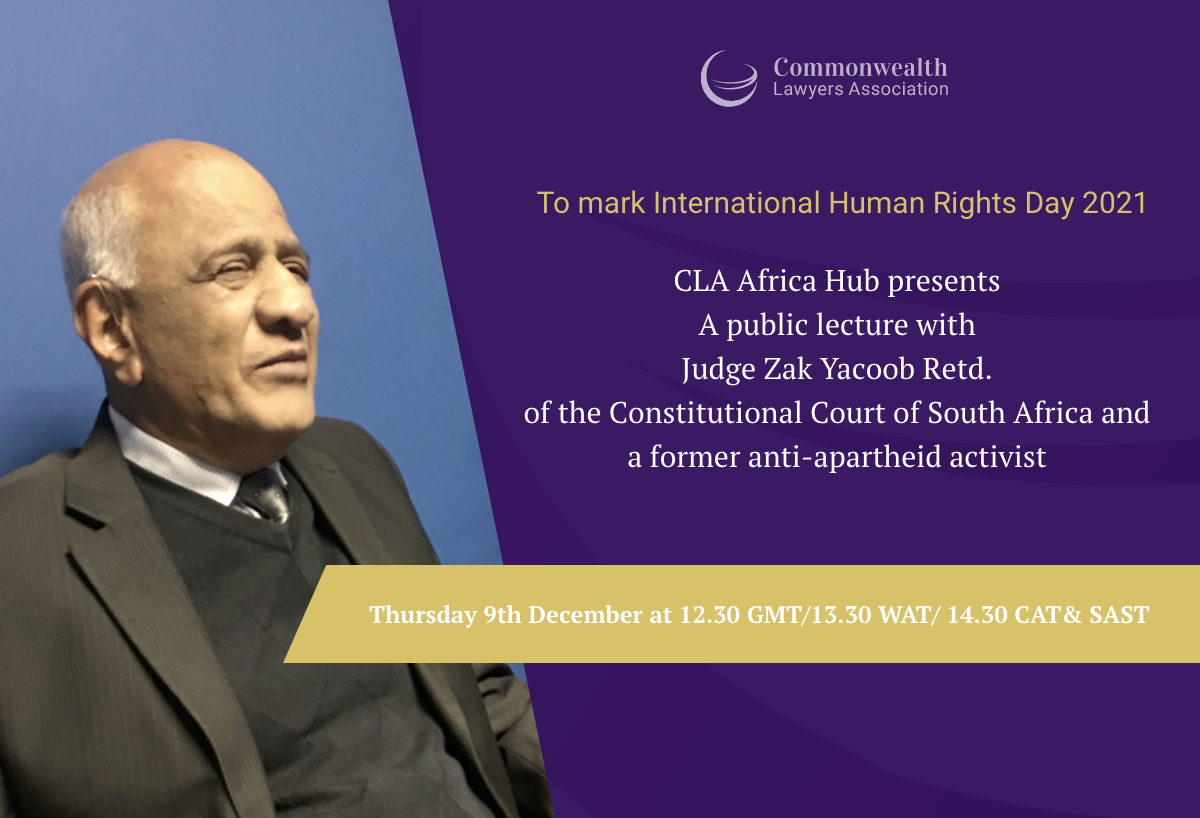 The Commonwealth Lawyers Association Africa Hub Public Lecture : Judge Zak Yacoob Retd. of South Africa celebrates International Human Rights day 2021 on the theme of "Equality"
Join the CLA Africa Hub in celebrating the International Day of Human Rights 2021 with a Public Lecture in this popular series of discourses with eminent jurists from the Hub.
Presenting on this year's theme of equality, the Hub are delighted to welcome Judge Zak Yacoob, of  the Constitutional Court of South Africa Retd, to deliver the Lecture.
DATE : Thursday 9th December 2021
TIME :
12.30 GMT
13.30 WAT
14.30  CAT
14.30 pm SAST
Register here
Chair :
Linda Kasonde,  CLA Executive Committee and Vice President of the Africa Hub
Speaker:
There will be an opportunity for a Q &A with the Panel at the end of the webinar via the chat function
Biography
Judge Zak Yacoob Retd.
Retired as a judge of the Constitutional Court after 15 years' service on 31 January 2013.
Completed BA LLB at University of Durban-Westville at end of 1972 and practiced at the then Natal Bar as junior and senior counsel until 31 January 1998.
While in practice, as an advocate, in addition to commercial work, he was:
a member of the underground of the ANC;
defended political prisoners charged under unjust apartheid laws;
did cases to help victims of detention, house arrest and other restrictive orders:
Was a member of the:
negotiation process and in particular, of the committee responsible for the finalization of the Bill of Rights in the Interim Constitution;
IEC that was responsible for S. Africa's first democratic election in 1994 ;and
the Independent Panel of Experts that advised the Constitutional Assembly in relation to the draft of the final constitution.
He is recognised in national and international legal circles for his contribution to the socio-economic rights jurisprudence of our country and has attended many international conferences, largely on human and socio-economic rights
He has taught at International Law Schools in Seattle, Melbourne, Maryland and in the joint programme between The Howard Law School, Washington and the University of the W Cape.
Was Chairperson of the Board of the South African Library for the Blind from 1 October 2007– 30 September 2013.
Since his retirement he:
Was awarded the Kentridge award for services to the law in Southern Africa
Engaged in ongoing Judicial training
Taught constitutional law at various local & international law schools
In March 2013 investigated and reported on allegations of inappropriate conduct by the then Commissioner of the South African Revenue Services
Sat on a Tribunal into the plight of the Cuban 5 in March 2014
Subsequently in 2015 also approached by the then NPA head to investigate and report on certain aspects of the functioning of the National Prosecuting Authority
Chaired the tribunal into the Indonesian atrocities of the 1960s at The Hague
Was Chair of Public Interest Litigation at IALS/ILS, Pune, India for 3 months in 2015
Chaired the Board of South African AIDS Council Trust (SANAC) from February 2013 until October 2016
Is a member of Boards of NGOs/Non Profit Organisations like  Socio-Economic Rights Institute(SERI)
Was Ombud of University KZN,