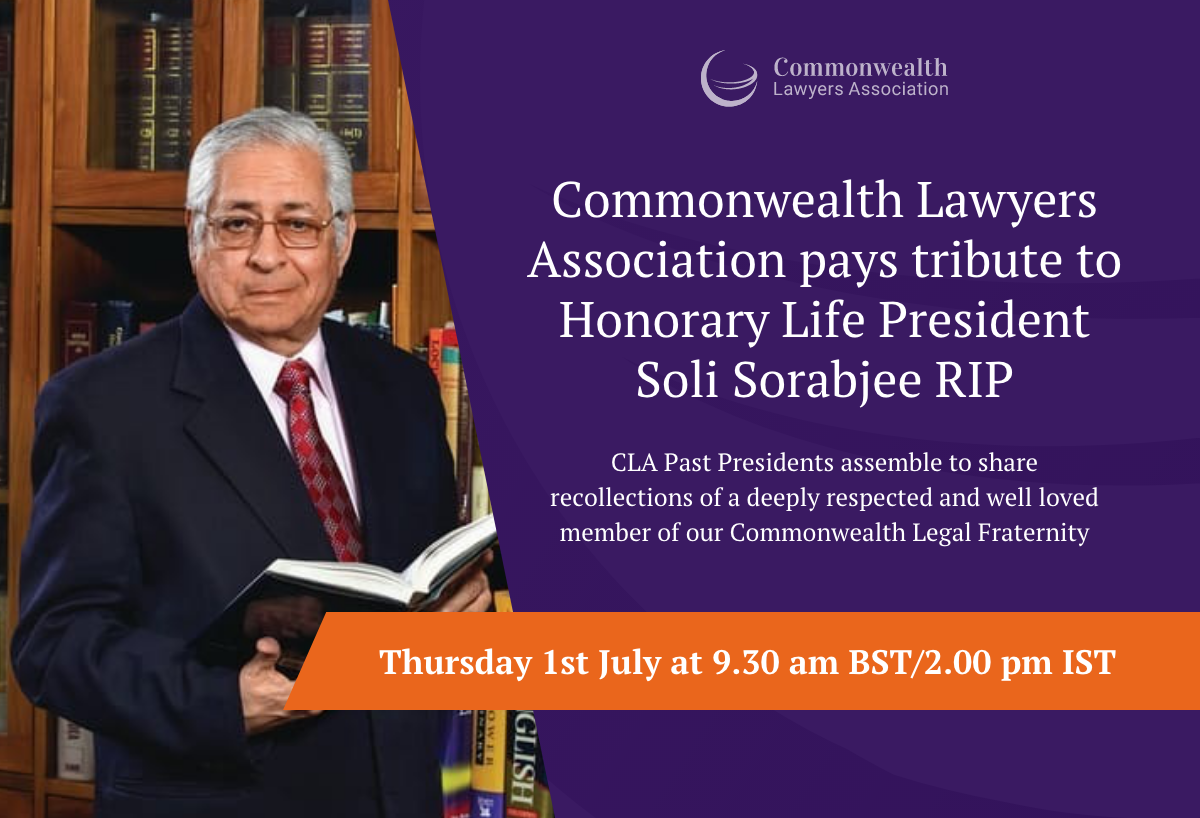 The Commonwealth Lawyers Association pays tribute to Honorary Life President Soli Sorabjee RIP
CLA Past presidents will assemble at this webinar to share recollections of a deeply respected and well-loved member of our Commonwealth legal fraternity.
DATE : Thursday 1st July 2021
TIME:
9.30 am BST, UK
2.00 pm, IST, India
4.30pm MYT, Malaysia
To register:
https://us02web.zoom.us/webinar/register/WN_P9gPbwMXQ2ildPkLGbj_FQ
Chair and opening and closing remarks:
Mr Brian Speers, President of the Commonwealth Lawyers Association
Reflections from CLA Past Presidents:
Santhaan Krishnan, India – immediate Past President 2017-19
Hon Rodney Hansen CNZM QC, New Zealand – Past President 1996 -99
Dato Cyrus Das, Malaysia – Honorary Life President and Past President 1999 -2003
Colin Nicholls QC, England – Honorary Life President and Past President 2003-2005
The Honourable Mr Justice Graeme Mew, Canada – Past President 2005-2007
Ron Heinrich AM, Australia – Honorary Life President and Past President 2007-2009
Mohamed Husain, South Africa – Past President 2009-2011
F. Boma Ayomide Alabi OON, SAN, Nigeria – Past President 2011-2013
Mark Stephens CBE, England – Past President 2013-2015
Alex Ward, Australia – Past President 2015-2017
Steven Thiru, CLA Vice President Australasia Hub will introduce Soli Sorabjee's family.
Biographies
Santhaan Krishnan
R.Santhanakrishnan was born in a middle class family in 1953 at Hyderabad and pursued his school and college education between the years 1958 and 1976. He obtained a Masters Degree in Economics from Osmania University, Hyderabad.
During student days he organized Youth Festivals and Sports Events and as a student organizer, found and headed "Young Folks League", a Literary Club at Hyderabad.  He also organized Educational Tours and Trekking expeditions.  Subsequently espousing the cause of Rule of Law as part of 'Organization for Protection of Democratic Rights' during the years 1975-79.
He was briefly employed with the Provincial Government during 1981-87 and was also Secretary of Employees Welfare Association. During the course of employment, was involved in the work of Election Commission of India from Voter Enumeration onwards till the completion of Poll Process and as an official, was part of the democratic process of conduct of General Elections. While in employment graduated in Law.
He joined the profession of law during the beginning of 1988 and after practicing in the High Court at Hyderabad for few years shifted to Supreme Court of India at Delhi in 1992. Was Standing Counsel of Road Transport Corporation for more than a decade. Practiced mainly in Employment and Administrative Law. And also in Human Rights, Elections, Arbitration and Constitutional Law.
As an active Member of the Bar Associations, assisted in their activity of continuing legal education and organization of Cricket among Lawyers. After being elected as President of Indian Advocates' Cricket Association in 2002, started associating with CLA by attending the 2005 Commonwealth Law Conference at London. Organized educational and cricket tour of Lawyers from India to various commonwealth countries like  Srilanka, England, Trinidad, Barbados, Malaysia and Singapore to interact with the legal fraternity. Founded Lawyers' Cricket World Cup in 2007-08 at Hyderabad and headed its International Committee.
He was co-opted as Council Member at large of Commonwealth Lawyers Association in 2008 as Deputy Head of the Local Organizing Committee (LOC), organized the 17thCommonwealth Law Conference at Hyderabad in 2011. Subsequently in 2013, as part of 4thLCWC, hosted a Sports Law Conference in Delhi under the aegis of CLA. Elected as Vice President of Commonwealth Lawyers Association for term 2015-17 and subsequently its President for the term 2017-19.
The Hon Rodney Hansen, CNZM QC
Rodney Hansen joined the Council of the CLA in 1986 in his capacity as co-convenor of the Organising Committee for the 1990 Commonwealth Law Conference at Auckland. He served as Honorary Secretary from 1993 to 1996 and as President from 1996 until 1999.
Rodney was admitted to the bar in 1969. He was a litigation partner of Simpson Grierson, a large New Zealand law firm, until he joined the independent bar in 1991. He took silk in 1995 and was appointed a judge of the New Zealand High Court in 1999. He sat frequently on the Court of Appeal before retiring from the Bench in 2014. Since then he has practised as an arbitrator and mediator and has served as a member of the Courts of Appeal of Tonga, Samoa and Kiribati.
Dato Cyrus Das
Dato' Cyrus Das (LLB (Hons); Ph.D is a senior legal practitioner at the Malaysian Bar.  He was Past President, Malaysian Bar Council from 1997 to 1999.  He is presently the Chairman of the LawAsia Constitutional & Rule of Law Committee.  He is also a Fellow of the Malaysian Institute of Arbitrators; Adjunct Professor of Law, HELP University Kuala Lumpur.  He has authored and edited the following books:  Governments & Crisis Powers:  A Study of Emergency Laws (1996); Justice Through Law (Ed) 1997; Judges & Judicial Accountability (Co-Ed) 2004.  His contact numbers are Tel. No. 603-7932 3066 / 4066.
Colin Nicholls QC
Colin Nicholls QC is a barrister and Bencher of Gray's Inn whose specialist experience includes war crimes; human rights; extradition and mutual legal assistance; corruption; complex commercial crime and cybercrime. He was a Recorder of Crown Courts from 1983- 1998 and was licensed to sit as a judge at the Old Bailey.
He has been called ad hoc to the Bars of Hong Kong, Gibraltar and St Helena. He has advised and appeared in extradition cases since 1973 and given expert evidence in Ireland, Kenya, and the United States.
His international experience includes advising governments and private clients in cases in the Channel Islands, Cyprus, France, Gibraltar, Hong Kong, Kenya, Italy, Switzerland, the United States, Venezuela, The Bahamas, India and Pakistan. He advised clients in connection with the Bhopal, Marcos and Bofors litigations, in the mani puliti trials in Italy, and in the 'cash for honours' scandal in England.  He acted as observer for Article XIX in a seditious libel in Zagreb.
In three cases between 1984 and 1989 he represented fugitives whose extradition from the UK was sought for capital murder in the United States and who risked the death penalty and significantly at that time the risk of 'the death row phenomenon'. In 1989 in Soering v UK,  the case of an eighteen year old German student accused of murdering his girl-friend's parents, the European Court of Human Rights changed forever the relation between extradition and human rights law when it ruled that extradition could violate the Convention although the risk of 'death row' contrary to art 3 would be inflicted by a non-member State. The Soering Principle has since been applied to deportation cases and other articles of the Convention such as fair trial and to the death penalty itself having a profound influence on the development of the laws of Commonwealth member states. No longer can governments remove aliens from their territories without appreciation of their human rights obligations.
In 2009 he was amicus curiae in the appeal of the former Bosnian president, Momcilo Krajisnik against his conviction for crimes against humanity at the ICTY; and defended Daniel James, a British soldier and interpreter for General Richards for spying in Afghanistan.
He attended his first Commonwealth Law Conference in Hong Kong in 1983 and became a vice president of the newly established CLA representing England and Wales in 1986. He became the CLA's honorary treasurer in 1998 and its honorary secretary in 1999. He was elected its President in 2003.
During his presidency the CLA appointed its first secretary general, Claire Martin and established an office in the School of Oriental Studies in London. In 2003 with Sir Sydney Kentridge QC and Tim Otty QC he was counsel filing the CLA 's amicus briefs in the Guantanamo Bay appeals in the US Supreme Court in Rasul v Bush and subsequently in Boumedienne, and in 2005 its intervention in the appeal of A and Others v  The Secretary of State relating to the admissibility of evidence obtained by torture.
In 2007 following the death of Lieutenant Colonel Hurley Whitehorne OJ he was elected the CLA's honorary life president in recognition of his services to the CLA and the legal profession in the Commonwealth.
He participated in the Latimer House Colloquium in 1998 and was closely involved in the work leading to the adoption by Commonwealth Heads of Government of the Commonwealth Latimer House Principles on the Three Branches of Government in 2003. He participated in the subsequent meetings in Nairobi in 2005 and Edinburgh in 2008 and is a founder member of the Latimer House Working Group and the Commonwealth Legal Forum. In 2008 he was a member of a High-Level Panel at a Special Session of Commonwealth Law Ministers in Edinburgh where he presented a paper on The Developing Role of the Justice Minister in the Light of Challenges facing the Rule of Law in the Commonwealth. In October 2010 he presented a paper to Law Ministers of Small Commonwealth Jurisdictions entitled The Role of the Attorney General: Establishing an Independent Attorney General's Office in Small Commonwealth States.
The Hon Mr Justice Graeme Mew
The Honourable Mr Justice Graeme Mew was appointed to the Ontario Superior Court in December 2013.  Previously, he was a member of the Bars of England & Wales (Middle Temple, 1982), Ontario (1987) and British Columbia (2010).  He is the author of The Law of Limitations, published by LexisNexis, currently in its third edition. He has been a judicial and appeals officer for World Rugby since 2001 and a member the ad hoc panels of the Court of Arbitration for Sport at the Commonwealth Games in 2010 (New Delhi) and the Olympic Games in 2012 (London).  He attended his first Commonwealth Law Conference in Nicosia in 1993 and was President of the Commonwealth Lawyers Association from 2005-7.  He currently serves as a director of the Sport Dispute Resolution Centre of Canada and the Ontario Superior Court Judges' Association. He is a sessional instructor at the Faculty of Law at Queen's University, Kingston and is a Bencher of the Honourable Society of the Middle Temple.
Ron Heinrich
Ron Heinrich has over 40 years' experience in Corporate and Commercial Law. He is highly regarded for his expertise in assisting clients on issues requiring his broad experience in corporations law, trade practices law, administrative law (including disciplinary Tribunals, Royal Commissions and ICAC Inquiries), revenue law (he is recognised as a Chartered Tax Adviser (CTA) by the Tax Institute) and insurance law. Ron advises on all aspects of mergers and acquisitions, corporate governance and probity, ASX Listing Rules, insurance and corporate risk.
Ron has contributed extensively to the legal profession, both in Australia and internationally. He is a former President of the Law Society of New South Wales, the Law Council of Australia and the Commonwealth Lawyers Association.
He is a former Chairman of the Law Society's Professional Conduct Committee and has been involved in the investigation and prosecution of solicitors guilty of professional misconduct, fraud and corruption.
Mohamed Husain
Mohamed specialises in commercial litigation and has a particular interest in judicial reviews, administrative law, competition law, litigation and medical schemes law. He has been involved in many high-profile litigation matters representing large corporations, banks and the Competition Commission. He is well respected both locally and globally for his contribution to the advancement of the legal profession and the Rule of Law. In 2009 he was appointed for a two year term as President of the Commonwealth Lawyers' Association (CLA) which represents lawyers' associations in 53 countries – the first South African to achieve this.
F. Boma Ayomide Alabi OON, SAN
Boma is a founding Partner of Primera Africa Legal. She leads the Primera Africa Legal's International Commercial Law/Corporate Governance practice. Her experience in corporate commercial practice spans approximately thirty years.
In addition to being an experienced Arbitrator and accredited Civil and Commercial Mediator, Boma specializes in International Tax Law, Maritime Law, Mergers & Acquisitions and Capital Market Transactions. She has advised on some of Nigeria's leading commercial deals in a number of sectors including real estate and infrastructure, manufacturing, banking, hospitality, telecommunications, maritime, energy, project funding and development.
She served as the President of the Commonwealth Lawyers Association 2011-2013, the first woman President in the over 50 year history of this association of lawyers from 54 countries. She was a Council Member of the Board of the Royal Commonwealth Society and also served as the Chairwoman of the Association of Women Solicitors of England and Wales between 2005/2006. She serves on the advisory board of MN Capital Africa Advisers
Mark Stephens CBE
A partner at UK firm Howard Kennedy, and former President of the Commonwealth Lawyers Association (2013-2015). He also currently sits on the Council and Executive Committee of the Commonwealth Lawyers Association.
Mark has undertaken some of the most important cases in the United Kingdom and around the world. His practice focus spans multi-jurisdictional, appellate and complex litigation, constitutional and human rights cases, intellectual property, media regulation, defamation, privacy, art and cultural property, data protection, freedom of information, and international arbitration.
In addition to representing high-profile individuals, he has been retained by Governments, among them the Republic of Cyprus, Greece, Jamaica, Libya, Mauritius and the Russian Republic, and has litigated in countries as diverse as Antigua, Australia, France, India, Iraq, Iran, Malaysia, Netherlands, New Zealand, Samoa, Singapore and the United States.
Mark serves as the Independent Board Chair of, the Global Network Initiative, Internews Europe, Global Witness, Bianca Jagger Human Rights Foundation, Programme in Comparative Media Law & Social Policy at Oxford University and the Design Artists Copyright Society. He sits on the boards of the Independent Schools Inspectorate, Index of Censorship; he is a trustee of the International Bar Association's Human Rights Institute, and a Council Member of the International Bar Association.
Alex Ward
Barrister, Navy Legal Officer, Administrative Appeals Tribunal Member
Alex currently practices in these roles, predominantly in South Australia. His barrister work includes cases on catastrophic events, insurance and injury claims as well as employment issues. He is a member of ethics advisory boards for lawyers.
Alex was President of the CLA (2015 – 2017) and before that the Law Council of Australia (2011) and Law Society of South Australia (2004 -2005). He has been very active in the media over his career promoting Rule of Law issues in his jurisdiction and beyond and providing commentary on public interest legal issues. He has been involved in the Arts, being a past board member of the highly successful Adelaide Fringe Festival.