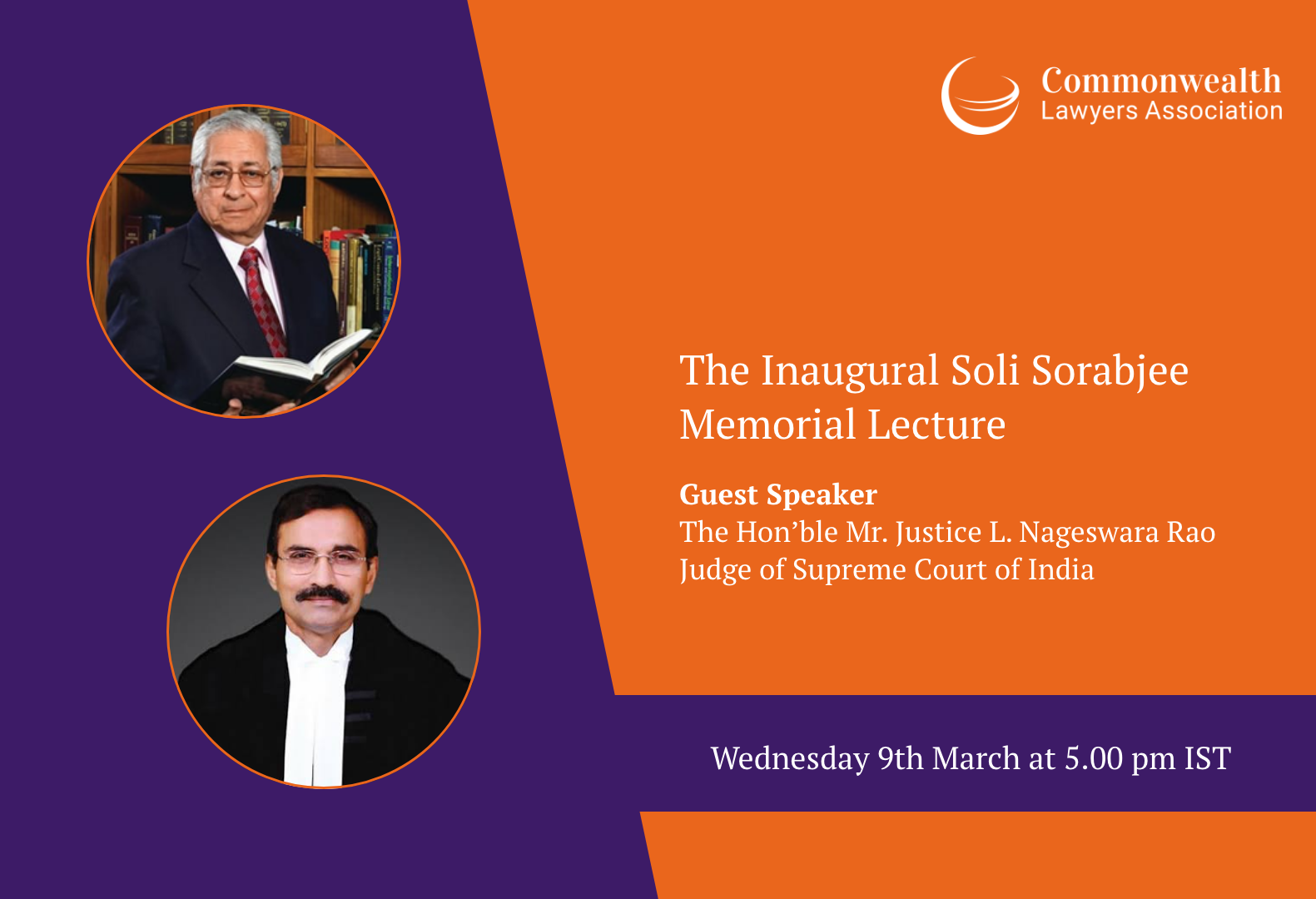 The Commonwealth Lawyers Association presents the inaugural Soli Sorabjee Memorial Lecture by the Hon'ble Mr Justice L.Nageswara Rao
The CLA, in collaboration with members of the Sorabjee family, are delighted to present the inaugural Memorial lecture in honour of the CLA's Honorary Life President, Soli Sorabjee RIP. 
On what would have been Soli's 92nd birthday, we are honoured to welcome the Hon'ble Mr Justice L. Nageswara Rao to present the inaugural Lecture in this annual series on the subject of "The role of the Supreme Court of India in augmenting the scope of fundamental rights"
This in person event will take place at the India International Centre, Delhi and attendees are invited to join us from 4.30 pm for light refreshments.
DATE : 9th March 2022
TIME:
5.00 pm –  6.00 pm IST, India
REGISTRATION:
Attendance at this in person event is strictly limited to those who have registered in advance. To register, please email registration@commonwealthlawconference.com with confirmation of the number of seats required and a name for each member of the party. Registration will close at 5.00 pm IST on 7th March.
Biography:
The Hon'ble Mr Justice L.Nageswara Rao
Practiced law for about 34 years. Served as a law officer of the Government of India for two terms – from August, 2003 to May, 2004 and again, from August, 2013 to December, 2014. As a member of the bar, his practice focused on the areas of constitutional, criminal, service, administrative and labour laws, in addition to civil and commercial laws. Argued seminal cases contributing to the jurisprudence on the scope of judicial review vis-à-vis acts of constitutional functionaries and the powers of the Election Commission of India in deregistration of political parties. Was a member of the Probe Committee appointed by the Supreme Court of India to look into allegations of corruption, betting and spot-fixing in Indian Premier League matches.
Elevated as a judge of the Supreme Court of India in May, 2016, becoming the seventh person to be directly elevated to the Supreme Court of India from the bar. Has authored and been a part of benches which have rendered numerous notable judgments on constitutional jurisprudence, particularly pertaining to fundamental rights.