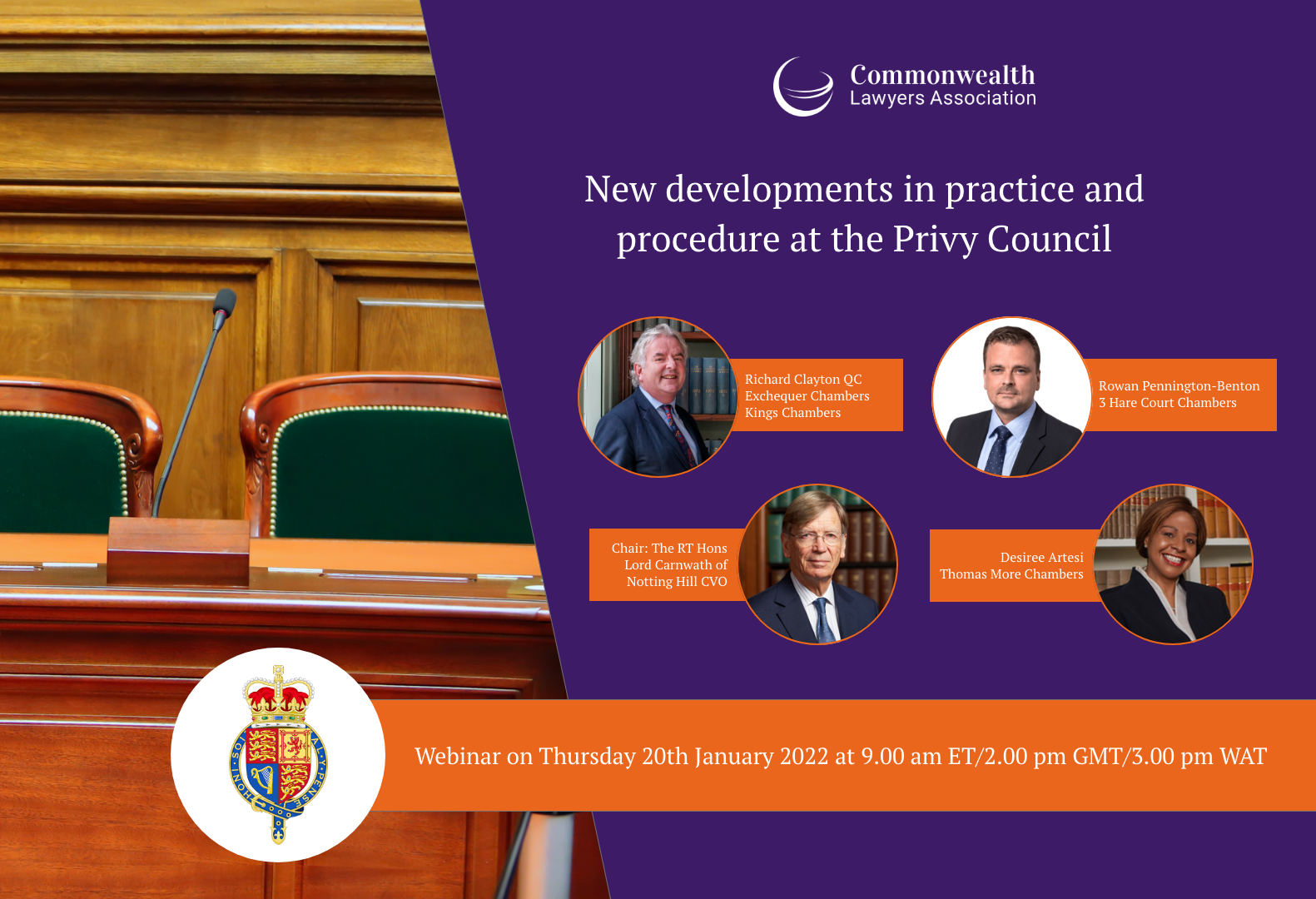 The final webinar in the popular Privy Council series: New developments in Privy Council practice and procedures
Registration is now open for the final webinar in this popular series exploring the work of the Privy Council.
The Commonwealth Lawyers Association  invites you to join us for a discussion chaired by Lord Carnwath of Notting Hill CVO and led by Richard Clayton QC, Rowan Pennington-Benton and Desiree Artesi with a focus on  practitioners who bring (or wish to bring) appeals to the Privy Council.
Our panellists Richard Clayton and Rowan Pennington-Benton will be speaking about the Privy Council's established practice of not interfering with "concurrent findings of fact" made by the courts below (Court of Appeal and the trial court). This issue very often arises, including in case where the Court of Appeal does not actually make any findings of fact. Our expert speakers will explain the practice, when it arises, exceptions to it and – crucially – how to take advantage of those exceptions: what arguments to deploy, how to persuade their Lordships to grant leave in the face of concurrent findings, and how best to use the established case law to your advantage.
We are excited to have Desiree Artesi joining our panel, an expert barrister in the fields of commercial law, property, international and appeals to the Privy Council. Desiree will be speaking about appeals to the Privy Council as of right, when nonetheless the Court of Appeal may refuse to grant leave, how to deal with the point if raised locally, and how to deal with it before the Board. She will consider the leading cases in this area, and provide useful insight, practical tips and advice on how to address this difficult and increasingly common practice.
Finally, Lord Carnwath – Justice of the UK Supreme Court /Privy Council for 8 years and a judge for much longer than that – will be offering some insider tips, tactics and practical advice on how to present and argue a Privy Council case.
DATE :  Thursday 20th January 2022
TIME:
9.00 am The Bahamas/Jamaica
10.00am Dominica/Trinidad and Tobago
2.00 pm United Kingdom
3.00 pm Nigeria
4.00 pm Zambia
To register:
Register here
Chair:
The Rt Hon Lord Carnwath of Notting Hill CVO
Opening remarks:
Brian Speers, CLA President
Panellists:
Richard Clayton QC
Rowan Pennington-Benton
Desiree Artesi
There will be a Q and A opportunity following our panel discussion. Should you wish to submit a question prior to the session, please email info@commonwealthlawyers.com referencing this event. Questions can also be submitted using the Q&A function during the webinar itself.
Biographies
The Rt Hon Lord Carnwath of Notting Hill CVO
Lord Robert Carnwath was a Justice of the UK Supreme Court from April 2012 until his retirement in March 2020. He has sat, and given leading judgments, in many cases in the Privy Council.
Before that he was a Lord Justice of Appeal from September 2001, having been a Judge of the High Court, Chancery Division, from 1994.
He was Chairman of the Law Commission for England and Wales from February 1999 until July 2002.
In July 2004 he was nominated as "Shadow" Senior President of Tribunals, to provide judicial leadership in the reform of the UK Tribunal system. In November 2007 he was appointed as the first statutory Senior President of Tribunals under the Tribunals, Courts and Enforcement Act 2007.
He was called to the Bar at the Middle Temple in 1968. From 1970 – 1994 he was a practising barrister in what is now Landmark Chambers. His main areas of practice were Local Government, Planning and Environmental Law, and Administrative Law. From 1980 – 85 he was Junior Counsel to the Inland Revenue. He took silk in 1985.
Between 1988 and 1994 he was Attorney-General to HRH the Prince of Wales (for which he was made a Companion of the Victorian Order).
Since 2004 he has worked as an adviser to the United Nations Environment Programme (UNEP) on judicial training and is a member of their International Advisory Council on Environmental Justice. He has spoken on environmental law and climate change issues at judicial conferences in many parts of the world. He has also spoken at a number of conferences of the Commonwealth Magistrates and Judges Association and the Commonwealth Lawyers Association.
Richard Clayton QC
Richard Clayton QC practises from London, England.  He undertakes many Supreme Court/ Privy Council appeals, practising in public, constitutional and commercial law.  His four Privy Council appeals this year include a Bahamas constitutional challenge to security for costs for disproportionately restricting access to the Court and a compulsory purchase compensation appeal for the AG of Anguilla.  He very recently appeared in the Gibraltar Court of Appeal in the first case concerning its legislation against bullying.  Richard works in Anguilla, Bahamas, Belize, Cayman, St Vincent, Trinidad, Turks & Caicos, Channel Islands, Gibraltar, Hong Kong and Isle of Man and in cases before the European Court of Human Rights.  His Supreme Court and Privy Council appeals include Seepersad (2021) (detaining juveniles in adult prison  breaches constitutional rights against deprivation of liberty without due process of law and protection of law ),  Maharaj (2019) (freedom of information), Maharaj (2018) (Commission appointing Supreme Court judges must include lay people),  Kennedy (2015) (freedom of information and common law rights), Suratt (2008) (constitutionality of discrimination legislation) Toussaint (2007) (right of access to the court and parliamentary privilege), Huang (2007) (important human rights proportionality case), Greenfield (2005) (principles for human rights damages) and the first environmental case before the Privy Council from Belize, BACONGO (2003).
Richard successfully represented former Prime Minister, Basdeo Panday before the Trinidad CA and was lead Counsel in the 8 day Court of Appeal  case for the former Chief Minister of Turks & Caicos, Michael Misick and his cabinet.  He was recently instructed in Trinidad in the cartel case and successfully defended judicial review against a Commission of Inquiry.
Richard has been a Deputy High Court Judge since 2011.  From 2011-2019 he was the United Kingdom's representative to the Council of Europe's advisory body on constitutional law, the Venice Commission.  Richard is a former Chairman of the Constitutional and Administrative Bar Association, a Visiting Professor at University College, London and joint author of the Law of Human Rights (Oxford University Press)  cited by the Supreme Court about 45 times.
Rowan Pennington-Benton
Rowan Pennington-Benton practises from 3 Hare Court Chambers in London. Called in 2008, he has a busy commercial /chancery practice as well as extensive expertise in public and constitutional law. He has appeared in over 20 Privy Council/ UKSC cases, and regularly appears in the High Court as well as arbitration and other forums in the UK and abroad. He has particular offshore experience, advising on development, construction, commercial and public law matters in various jurisdictions in the Caribbean and closer to home in Gibraltar (where he is a consultant barrister at Hassans, the largest law firm on the Rock)
Desiree Artesi
Desiree was called to the Bar of England Wales in October 1998 by Inner Temple. Desiree has a predominantly Privy Council practice.
Desiree also has a diverse civil and commercial practice, including all aspects of property, public law and judicial review. Desiree has a particular interest in international commercial arbitration with a focus on Caribbean and North American jurisdictions. Desiree is a member of the Caribbean Group of Arbitrators.
Desiree was called to the Bar in St Lucia with the ability to practice throughout the Eastern Caribbean Supreme Court.
Desiree was appointed as a Bencher to the Honourable Society of Inner Temple.
Desiree has a particular interest in the challenges faced by small jurisdictions and is an Associate of the Island Rights Initiative, a consultancy and think tank dedicated to helping small island communities facing global human rights challenges. www.islandrights.org/about-us/
Desiree is an affiliate expert of the Centre for Law and Social Justice at Leeds University and has a keen interest in social justice issues.