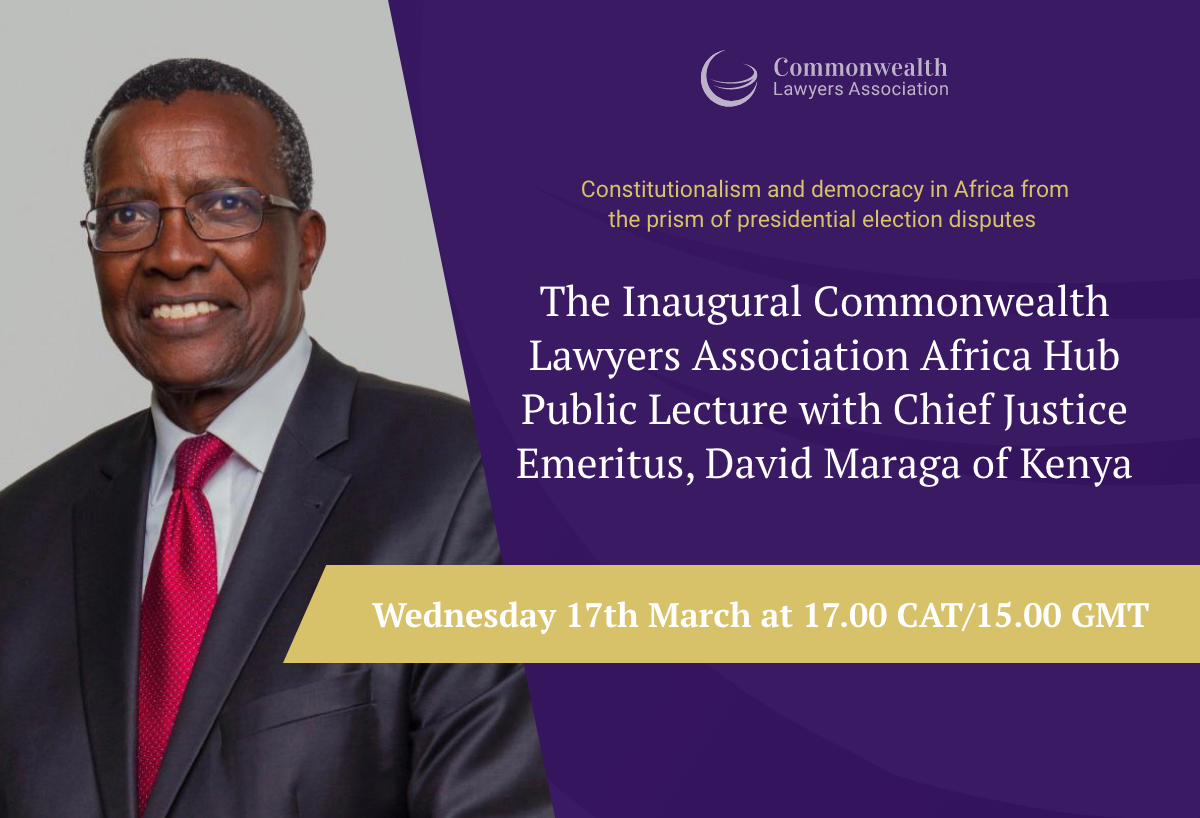 The Inaugural Commonwealth Lawyers Association Africa Hub Public Lecture : Chief Justice Emeritus, David Maraga of Kenya on Constitutionalism and democracy in Africa from the prism of presidential election disputes
DATE : Wednesday 17th March 2021
TIME :
6.00 p.m EAT, Kenya
5.00 p.m CAT, Zambia
3.00 p.m GMT, United Kingdom
Register here
The event will also be broadcast live on YouTube, you can subscribe to our channel here:
https://www.youtube.com/channel/UC4w8VAgIibHZjiVXpshOr2g
Chair :
Linda Kasonde,  CLA Executive Committee and Vice President of the Africa Hub
Closing Remarks :
Maria Mbeneka, Kimani Kabucho Mbeneka & Co Advocates and CLA Council representative, Kenya
There will be an opportunity for a Q &A with the Panel at the end of the webinar via the chat function
Biography
Retired Chief Justice David K. Maraga, FCIArb, EGH
Retired Chief Justice David Maraga holds Bachelor (LLB) and Master of Laws (LLM) degrees from the University of Nairobi and is a Fellow of the Chartered Institute of Arbitrators (FCIArb) London. Prior to joining the Judiciary, CJ Maraga was in private practice for over 25 years. He was appointed Judge of the High Court in 2003 and Judge of the Court of Appeal in 2012. He served as the Presiding Judge of the regional bench of the Court of Appeal at Kisumu, and was the Chair of the Judiciary Committee on Elections (JCE); a standing Committee of the Kenyan Judiciary that is charged with the responsibility of overseeing the efficient disposal of election matters by the courts.
As the President of the Supreme Court, CJ Maraga presided over the two presidential election petitions in 2017. He also determined numerous election petitions and appeals during his tenure as a Judge of the High Court, and appeals in the Court of Appeal as well as the Supreme Court.
CJ Maraga is a recipient of honorary doctoral degrees from Daystar University and Adventist University of Africa in Kenya, as well as Andrews University in Michigan, USA, all in recognition of his distinguished service and courageous leadership. CJ Maraga has also received numerous awards in recognition of his defence of the rule of law among them, the International Commission of Jurists-Kenya (ICJ-Kenya) Jurist of the Year 2017, the CB Madan Award (2017), the Law Society of Kenya award for Distinguished Service in the Administration of Justice (2018). In 2016, the Head of State honoured CJ Maraga with the state honour of, the Elder of the Golden Heart (EGH), in recognition of exemplary service to his country.
CJ Maraga is a Christian and an Elder of the Seventh day Adventist Church. He is married with three children.