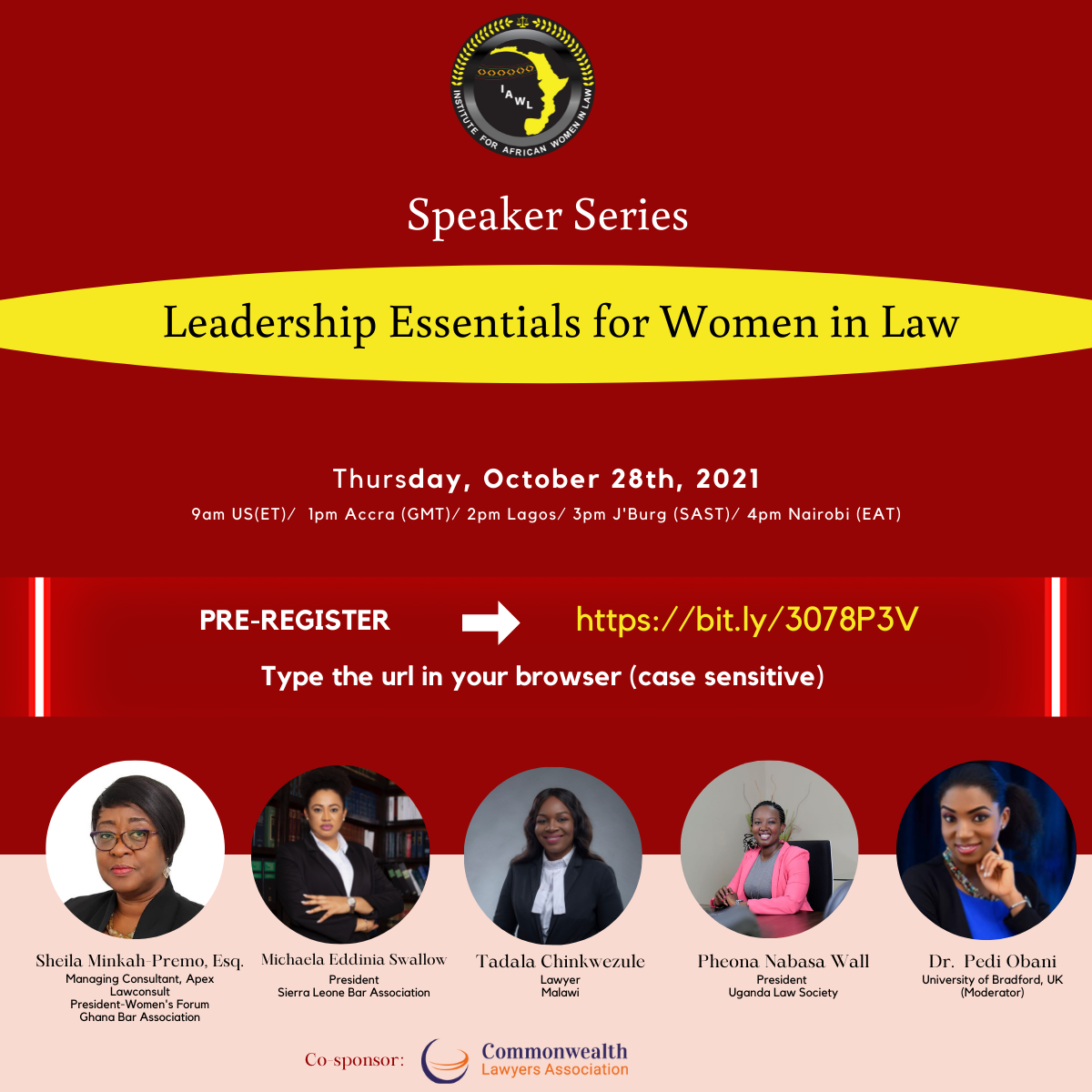 The Institute for African Women in Law and the CLA co-convened webinar : Leadership Essentials for Women in Law
The CLA is delighted to confirm a webinar collaboration with the Institute for African Women in Law (IAWL) as part of their "Amandla! African women in law" speaker series.
Registration is now open for the first of two co-convened webinars where a stellar panel will discuss issues of resonance for those in the legal arena.
Across Africa, women have made remarkable gains as founding partners of law firms, chief justices, presidents of courts, deans of law schools, general counsel and government ministerial appointees. Rising to a position of leadership as a woman is no mean feat given the masculine nature of the legal profession. This panel will focus on addressing the essential leadership skills and offer guidance and support for current or aspiring women leaders in law.
Panellists will share their journeys to leadership, strategies for surviving in a leadership position, how to develop leadership skills, and how to transfer leadership skills through mentoring.
DATE :  Thursday 28th October 2021
TIME:
9.00 am EST USA/Canada
1.00 pm Accra
2.00 pm Lagos/London
3.00 pm Johannesburg
4.00pm Nairobi
To register:
Register here
Moderator:
Panellists:
Sheila Minkah-Premo Esq
Eddinia M Swallow
Tadala P Chinkwezule
Pheona Nabasa Wall
We look forward to welcoming attendees to the second in the Amandla! series and there will be a Q and A opportunity following our panel discussion. Should you wish to submit a question prior to the session, please email info@commonwealthlawyers.com referencing this event.
Biographies
Tadala P Chinkwezule
Tadala Peggy Chinkwezule is a Malawian Lawyer with over 10 years of practice experience and was admitted as Notary Public in 2019.
She holds a Masters Degree in Human Rights and Democratisation in Africa from University of Pretoria and a Bachelor of Laws Degree Upper Second Class (Hons) from University of Malawi, together with Certificates in Corporate Governance and; in Business Development and Entrepreneurship.
She is the Legal Services Manager for AHL Group PLC and serves as Company Secretary for AHL Commodities Exchange. She is a contributor of a weekly newspaper column "The Legal Hub" in the Malawian Sunday Times. She has authored diverse articles including 'Corporate Governance within the regime of the Companies Act 2013' (Institute of Chartered Accountants in Malawi 2019) and 'Should practice rules and/or bar associations make pro bono legal services mandatory for lawyers' (International Bar Association, Pro Bono Committee Publications, 2019).
In 2019 she was a Speaker at the ICAM Corporate Guru's Conference. She was recognised as one of the 100 Women Lawyers of 2021 by Courtroom Mail and as Member of the Year 2020 by Women Lawyers Association (Malawi).
She is a Fellow of YALI Regional Leadership Centre in South Africa and the International Lawyers for Africa program in United Kingdom.  She is a Council Member for SADC Lawyers Association, Head of Division of the Malawi Law Society Junior Lawyers Division, Member of the Digital Skills and Innovations Grants Committee, Board Director of NGO Board and Director of Standing Voice.
From 2017 to date, she has undertaken over 20 in person mentorship programs with over 1000 youth. Through Estac Events, a marketing and events management firm she founded, she has propelled over 600 small and medium businesses in Malawi.
She is married to Esau and they have two lovely children, Joshua and Ruth.
Pheona Wall
Pheona is an Advocate of the High Court of Uganda and subordinate courts thereto and she is currently the President of Uganda Law Society and Senior Manager Legal Services at National Water and Sewerage Corperation(NWSC). She is a Governance Expert who trains Boards in Governance under the Institute for Corporate Governance Uganda and has also served on various Boards including Zamara Retirement Fund, Water FC, Future Investments Group, East African Young Water Professionals, Uganda Law Society, and Public Relations Association of Uganda. She is a member of various organisations like ICGU, FIDA, IBA, PRAU, ULS and EALS. A resource in both private and public enterprises with thorough knowledge and hands-on experience in Public relations, company secretarial practice, corporate governance, labour law, contract and commercial transactions, Pheona combines a solid corporate legal background with a well-developed understanding of both commercial and operational drivers of business. She is passionate about promoting good governance and change management in public institutions, increasing access to justice for the marginalised especially women and children, and promoting the rule of law. She is an ardent advocate for ethical practice under her mantra, "Faithful~Available~Teachable ". She is a proud mother of three children and happily married.
Pheona was awarded the Hague Institute for Innovations in Law "2018 Talent to Watch" award and is a two-time awardee of the New Vision 40 under 40 award for 2018 and 2020. Pheona was also awarded the French German Elysees Peace and Reconciliation Award in 2021 for her efforts towards fighting for the Rule of Law in Uganda