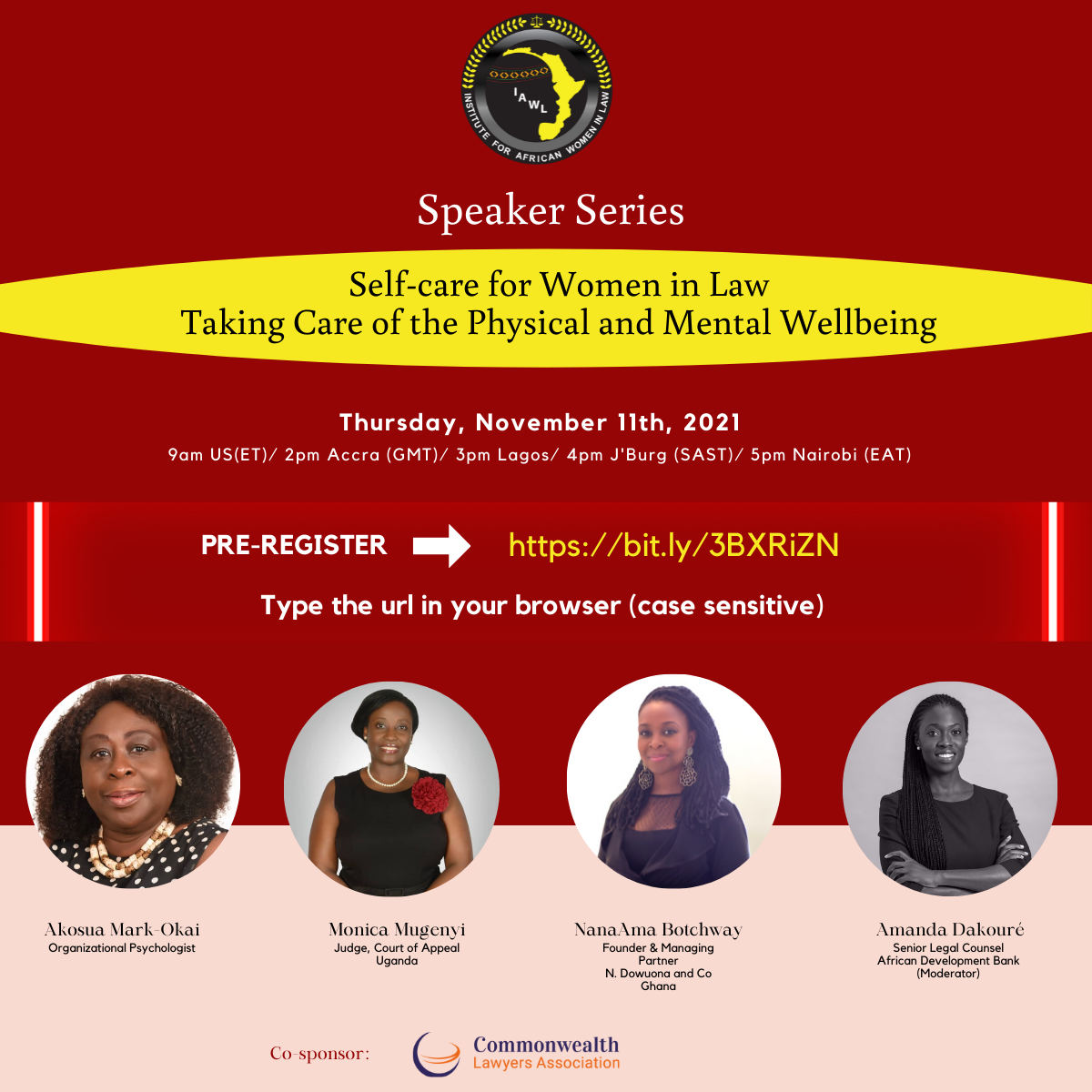 The Institute for African Women in Law and the CLA co-convened webinar "Self Care for Women in Law : Taking Care of the Physical and Mental Wellbeing"
Registration is now open for the second in the "Amandla! African women in law" speaker series, a collaboration between the Institute for African Women in Law (IAWL) and the Commonwealth Lawyers Association (CLA).
The last few years have seen an increase in national discourse around mental health, especially during the ongoing Covid-19 pandemic. However, more conversations are needed with specific regard to individual health at work—specifically mental health for women professionals. Whilst there are more companies that discuss the importance of physical health for work productivity, some argue that there needs to be more of a discourse on the importance of mental health at work. Additionally, there is greater need to consider how being female or a minority at your workplace can affect your health.
A stellar panel will discuss what mental health is, why it is essential to take care of your mental and physical health, and the benefits of doing so for yourself and your career. Panellists will discuss mental and physical healthcare in relation to women working in the legal profession.
DATE :  11th November 2021
TIME:
9.00 am  USA and Canada ET
1.00 pm   London
2.00 pm   Accra
3.00 pm  Lagos
4.00 pm  Johannesburg
5.00pm   Nairobi
Moderator:
Panellists:
Monica Mugenyi
Akosua Mark-Okai
NanaAma Botchway
We look forward to welcoming attendees to the second in the Amandla! series and there will be a Q and A opportunity following our panel discussion. Should you wish to submit a question prior to the session, please email info@commonwealthlawyers.com referencing this event.