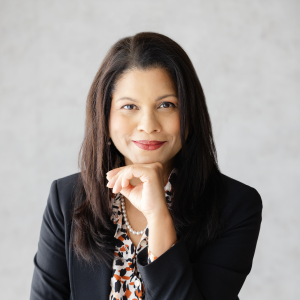 Reshma Sharma KC
Cayman Islands
Reshma Sharma KC began her legal career as State Counsel with the Solicitor General's Office (Ministry of the Attorney General) of Trinidad and Tobago in 1997. She later joined the Cayman Islands Portfolio of Legal Affairs where she has worked for over 18 years. In 2019, she was appointed the Solicitor General of the Cayman Islands.
Throughout her career, her civil advisory and litigation work for government entities and public bodies has been quite varied with considerable emphasis on issues of constitutional, administrative/public and human rights law. During her tenure with the Cayman Islands, she has been involved in a number of novel constitutional/public law matters, often concerning fundamental rights and freedoms, such as the right to same-sex marriage, age and nationality discrimination, the legality of using constitutional reserve powers to enact civil partnership legislation as well as other matters of public importance such as election petitions, the availability of closed material procedures in judicial review and contempt of court proceedings. Her practice has also extended to other areas including financial sanctions, mutual legal assistance, extradition, asylum and regulatory/disciplinary proceedings. She is a Law Reform Commissioner and serves on other bodies responsible for matters such as child safeguarding and the formulation of national anti-money laundering/the countering of terrorism financing policies. Apart from her core legal role, she has administrative and financial responsibility for seven departments that deliver a range of legal services, tertiary legal education, financial intelligence and AML/CFT policy coordination.
A recent addition to the CLA, Reshma participated in the 2023 CLA in Goa as a panelist on the LGBTIQ+ rights session and the CALRAs conference. She is also a member of two CLA Committees involving human rights and public administrative law. She would welcome the opportunity to contribute to the incredible work of the CLA and to promote its objectives, and to highlight legal developments in the Cayman Islands.
Perhaps unsurprisingly, she is particularly excited about recent initiatives to develop (or expand, as the case may be) a special forum for public sector lawyers within the CLA in recognition of their rather unique role and the particular challenges that they face, and looks forward to further collaboration with colleagues to take this forward.