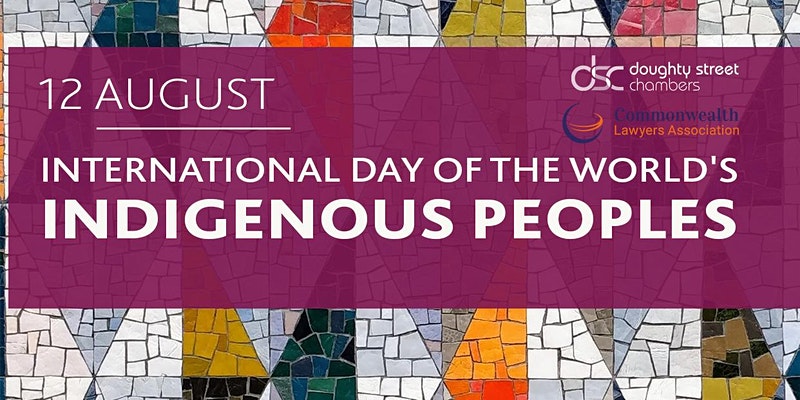 Indigenous Rights, Self-Determination and Climate Justice in the Asia Pacific Region – a roundtable in collaboration with Doughty Street Chambers to mark the International Day of the World's Indigenous Peoples
We invite you to join Doughty Street Chambers in collaboration with the  Commonwealth Lawyers Association to mark International Day of the World's Indigenous Peoples for a round table conversation, which highlights the impact that climate change is having on the indigenous populations of the Asia Pacific.
DSC's Jennifer Robinson chairs this event bringing together leaders from the Asia Pacific who offer their unique insight into how climate change is affecting the indigenous people of the Asia Pacific, including its impact on indigenous rights and the right to self-determination.
DATE :  Thursday 12th August 2021
TIME:
9.00 am BST, United Kingdom
4.00 am, EST, Caribbean
10.00am CAT, Central Africa
4.00pm MYT, Malaysia
5.00pm PGT, Papua New Guinea
7.00pm VUT, Vanuatu
To register:
Register here
Chair:
Jennifer Robinson, Doughty Street Chambers
Panellists:
Ralph Regenvanu, Leader of the Opposition and former Minister of Foreign Affairs, International Cooperation & External Trade, Vanuatu
Benny Wenda, Interim President of the Provisional Government of West Papua
Julian Aguon, Human Rights Lawyer and Writer from Guam
There will be live auto-transcription enabled throughout this event and it will be recorded. All guests will have their cameras and microphones turned off automatically for this event. Exclusionary language will not be accepted.
The audio transcript will be made available on request.
Unfortunately, we will be unable to provide a BSL interpreter for this event.
Please let us know if you would like to engage in a confidential conversation regarding this or if you have any other accessibility requirements at: events@doughtystreet.co.uk
Speaker Biographies
Ralph Regenvanu
Ralph Regenvanu is currently serving his fourth term as the Member of Parliament for Port Vila in Vanuatu's Parliament, and is currently the Leader of the Opposition in the country's 12th Legislature since Independence in 1980.
He has held a number of Ministerial portfolios over that time, most substantially as Minister of Lands and Natural Resources from 2013 to 2017 and Minister for Foreign Affairs from 2017 until April 2020. Ralph has a background in cultural heritage management, and served as Director of the National Museum of Vanuatu from 1995 until 2006, during which time he was also a founding Board Member of both the Pacific Islands Museums Association (PIMA) and the regional cultural sites preservation organization, ICOMOS Pasifika. Ralph was Co-chair of the National Sustainable Development Plan Core Group which was responsible for developing Vanuatu's 'National Sustainable Development Plan 2016-2030'.
Ralph is leading the initiative for bringing climate change issues before the International Court of Justice on behalf of Vanuatu.
Benny Wenda
Benny Wenda is an internationally-renowned diplomat and leader of the West Papuan people. A former political prisoner, Mr Wenda was persecuted for his leadership of the movement for self-determination and obtained asylum in the UK in 2002. Mr Wenda founded the Free West Papua Campaign and then the the United Liberation Movement for West Papua (ULMWP), the umbrella organisation for Papuan independence groups. He has been nominated for the Nobel Peace Prize twice for his tireless advocacy for West Papuan self-determination.
In July 2019, Mr Wenda was awarded the Freedom of the City of Oxford Award, Oxford's oldest and most prestigious honour. He joins other notable recipients of the award including former South African President, Nelson Mandela and post-War British Prime Minister, Clement Attlee.
In December 2020, he announced the formation of the Provisional Government of West Papua, and was appointed Interim President in a major step forward in the Papuan people's struggle for sovereignty and independence.
Mr Wenda is advocating for Green State policies for an independent West Papua and advocates for creating a home in West Papua for climate change refugees from the region.
Julian Aguon
Julian Aguon is a human rights lawyer and writer from Guam. He is the founder of Blue Ocean Law, a progressive firm that works at the intersection of Indigenous rights and environmental justice. He is the author of the acclaimed new book, The Properties of Perpetual Light. He serves on the global advisory council of Progressive International—a collective that launched in May 2020 to mobilize progressive forces around the world behind a shared vision of social justice.