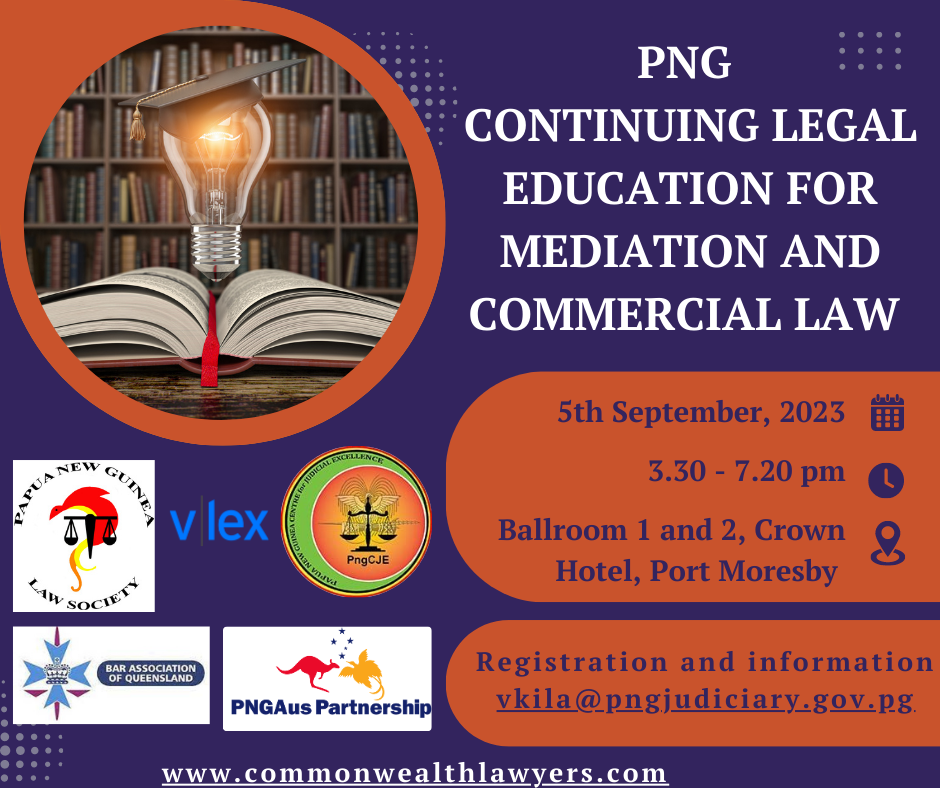 PNG Continuing Legal Education for Mediation and Commercial Law : 5th September 2023
Join the CLA at this lawyers only continuing legal education event, where a distinguished panel of speakers will present sessions on the theme of mediation and commercial law.
Open to all practicing lawyers free of charge, the event is co- hosted with the PNG Centre for Judicial Excellence, the Law Society of Papua New Guinea, the Bar Association of Queensland,the PNGAus Partnership and vLex.
Whilst lawyers are encouraged to attend in person, the event will be live streamed with the link to be confirmed nearer to the event.
DATE : Tuesday 5th September
TIME : 15.30 Port Moresby
REGISTER TO ATTEND IN-PERSON : Please email your details to  vkila@pngjudiciary.gov.pg
LIVE STREAM: https://youtube.com/live/JHh2XX3TXnA
The programme and speaking faculty are as follows:
3.30 pm  Opening Remarks:
Deputy Chief Justice Ambeng Kandakasi

David Denniston, CLA Council Member for PNG
4.00-5.20 pm  Session 1: Commercial Law Basics & Developments
Chair : Eunice Parua, LLLS & PNG Law Society Council Member
Presenters: Richard Flynn,Ashurst – PPSA fundamentals
Sarah Kuman,Allens Linklaters – Recent changes to the Companies Act,Investment Promotion Act & Associations Incorporation Act
Michael Sullivan, LLLS-  Key laws and developments relevant to a client with an investment in a company listed on PNGX
5.30 -6.50 pm Session 2 Advocacy Skills in Mediation
Chair: Hon Justice J A Logan RFD
Presenters: Andrew Crowe KC
Deputy Chief Justice Ambeng Kandakasi
7.00 -7.20 pm Session 3 New Legal Technology and Tools for PNG
Presenter: Daniel Hobson, Head of Business APAC vLex Global Markets
The final session will then be followed by light refreshments and an opportunity to network and connect with colleagues and speakers.
Download the event flyer here
Speaker Profiles
Deputy Chief Justice Ambeng Kandakasi