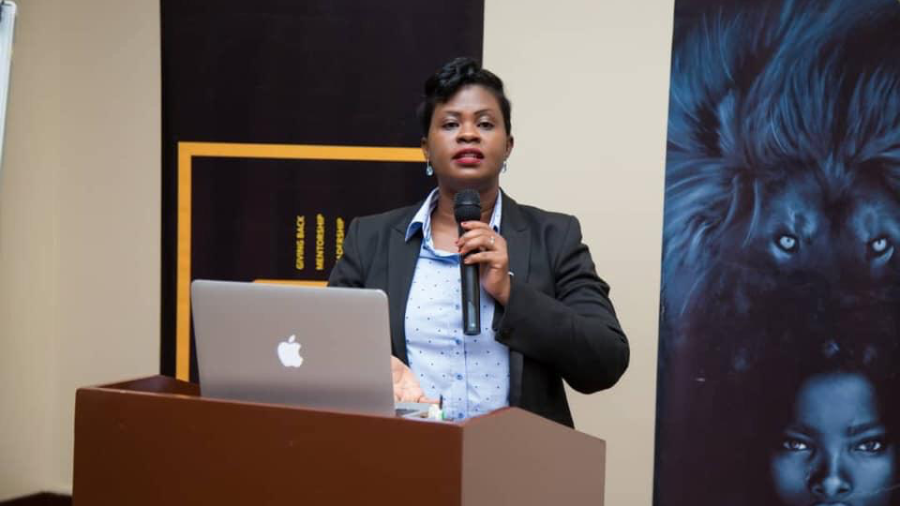 Africa /

"Coffee with Alice": A Uniquely Ugandan Mentorship Experience
By Alice Namuli Blazevic
Katende Ssempebwa Advocates
Kampala, Uganda
Background
Coffee with Alice is a mentorship programme for young and aspiring lawyers from secondary schools, universities, bar course and young advocates with the aim of helping them bridge the gap between the theory learnt at law school and challenges of legal practice. I focus on teaching them soft skills that are not taught in law schools; emotional intelligence, creativity, cognitive flexibility, upskilling through self-teaching, learning through experience while still in school, etc. Coffee with Alice is also about nurturing young leaders, promoting accountable leadership, self-governance and fostering a culture of giving back to any cause that serves humanity and builds our nation.
During my early days in the legal profession I quickly learnt that the legal profession was marred with a lot of malpractices and was a breeding ground for corruption (in our courts, police, government offices and regulatory bodies). I also discovered the lack of mentorship of most lawyers was the major cause of frustration for young lawyers. Further, there was a big lacuna between the high expectations of a successful legal practice while in law school and succeeding within the realities of legal practice. Yet the impact of an undisciplined corrupt legal profession to the development of Uganda was enormous because lawyers have a very big influence in all spheres of our communities be it social, economic or political.  I also thought lawyers did not have the moral authority of promoting the rule of law while being its worst violators or lacking self-governance in our law practices. I had a deep-seated desire to change the culture of the legal profession, and what came to my mind was breeding a new generation of lawyers who know better, who are responsible for their own actions and can bring about transformational success in our profession and in turn our country. This vision birthed 'Coffee with Alice'.
In 2013, I started this mentorship programme by visiting secondary schools, law schools and reaching out to young advocates through various platforms: my law firm, Rotary, Uganda Law Society and the Commonwealth Scholarships and Fellowship Alumni Association. This eventually turned into one-on-one mentorship sessions and as the numbers kept growing I decided to host group sessions in Kampala on a monthly basis.
The first group session under the brand 'Coffee with Alice' was held in December 2017 in Kampala, where the venue was generously donated by the owner of the hotel – I only paid for coffee and snacks out-of-pocket. The first sessions gathered about 40 young professionals. Since then the event has grown stupendously, pulling up to 200 mentees on average. The last session drew a whopping 450-person audience.
For the past two years, I have attracted various sponsors for the event.  Our Major sponsor being Wild Coffee, a start-up coffee producer aiming to roast quality Ugandan coffee inside the country for export, thereby retaining larger segments of the value chain in the country of production.
Virtual Mentorship Sessions
My work requires a lot of travel which hinders my ability to host as many sessions as I would have wished. And due to the high demand for online sessions by our online followers in January 2019 I decided to host mentorship sessions online where we have live discussions on Facebook, Twitter and Whatsapp. Online sessions were also an effort to reach out to an audience whose lives depend on the digital era. The sessions have turned out to have a greater reach to many followers from various regions within Uganda and on the African continent from countries like Nigeria, Ghana, Ivory Coast, Kenya, Tanzania, Rwanda, South Sudan, Zambia and South Africa, who are not able to attend physical sessions.
Nurturing Young Leaders
Coffee with Alice is now run by a team of young lawyers and students who on a daily basis plan and organise all the sessions. Many alumni volunteer with the Legal Innovation Hub which I co-founded. And 6 of them fully administer the activities at the Hub.
The Legal Innovation Hub is a co-working space for lawyers and innovators. A legal tech lab based in Kampala with a focus on building better legal solutions. The Hub helps to support, foster and develop solutions and techniques to enhance the delivery of legal services and access to justice.
Community Service and Leadership
Many alumni also volunteer with I read I Innovate (a mobile community reading club) another initiative I founded, which is aimed at nurturing the culture of reading books among children (from 1 to 13years) from under privileged communities in Uganda. We nurture curiosity, creativity and innovation through reading to the children.  We have over 100 volunteers who read to the children and host reading sessions in their respective communities. Three of the volunteers who administer the project are 'Coffee with Alice alumni'. The reading club is a great example of how 'Coffee with Alice' Alumni can easily engage in the development of their communities and lead without formal titles.
What Motivates Me
I am motivated by the success stories and the feedback from the young people I have mentored over the years through this project. It is an overwhelming feeling of joy to get back from the alumni and to see them make their mark on the world.
The majority of them appreciate the value of upskilling, practice personal accountability in their leadership roles, promote anti-corruption practices, engage in civic duties like voting and offering themselves for public offices, conduct leadership trainings at universities and their communities, lead Youth Associations, volunteer and operate community projects, started online business ventures, and are involved in legal innovations programs developing amazing solutions to enhance the way we deliver legal service and access to justice.
The Future of Coffee with Alice
Sometime this year, we will be launching the Coffee with Alice App where mentors and mentees from all over the world can easily connect. This has been delayed due to lack of funding. We are also working at launching a Coffee with Alice podcast, extend the online mentorship sessions to other social media platforms like Instagram and engage in more collaborations with Universities across Africa.
Follow us on Linkedin @CoffeewithAlice, on Facebook @CoffeeWithAlice,  on Twitter and Instagram @mentorshipcaf