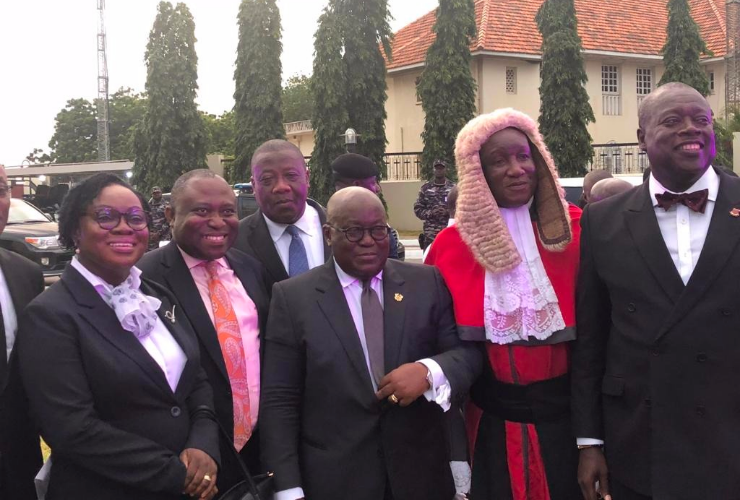 Africa /

President's Blog: CLA's Council Member elevated to the Supreme Court of Ghana
On 3rd October I was honoured to have been able to join CLA's own friend and long standing Council Member and Head of the African Regional Hub, Mr. Nene Amegatcher in Accra to witness his taking oath as Judge of the Supreme Court of Ghana. At the Swearing in Ceremony The President of the Republic of Ghana gave the oath of office to Hon. Justice Nene Amegatcher, along with three others. Two were from the Appeal Court and two including Justice Amegatcher were directly elevated from the Bar.
The Ceremony was in Jubilee House of the Presidential estate with a reception afterwards on the lawn.
Newly sworn in Justice Amegatcher with the President of Ghana and the Executive of Ghana Bar Association including Anthony Forson, newly elected President of the Bar.
It was a priviledge to have been so warmly welcomed by the President of Republic of Ghana and the legal fraternity and I felt that my presence for the swearing in ceremony sent a great message of connection for Commonwealth lawyers across the globe.
Later in the evening we were hosted at a reception given by another old friend and colleague of CLA who heads Justice Amegatchers firm – Mr Sam Okudzeto.