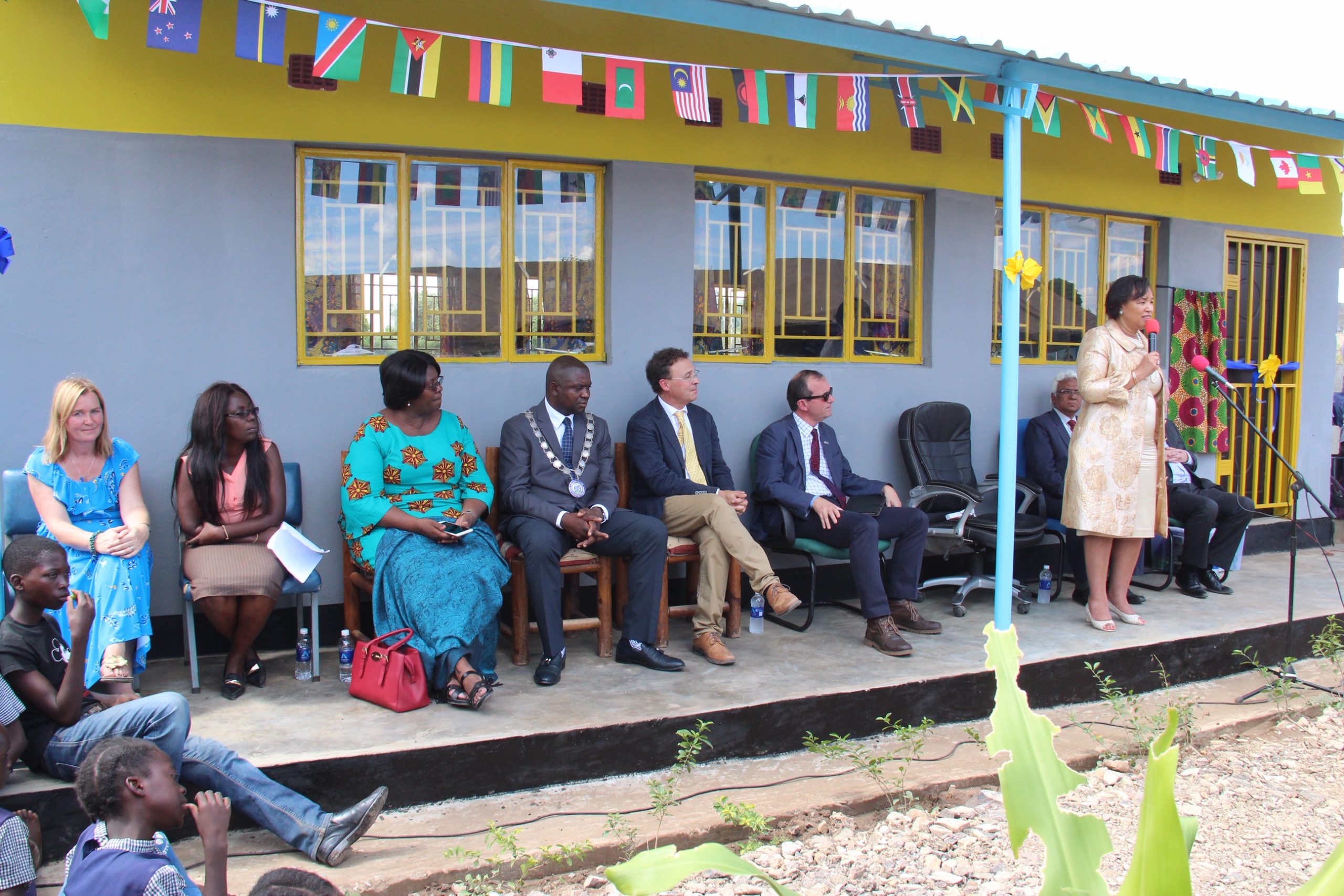 Africa /

The CLA Classroom, Zambia & a further appeal
In April of this year the Commonwealth Law Conference was held in Livingstone, Zambia. The Commonwealth Lawyers Association decided to leave behind a lasting physical legacy as an act of corporate social responsibility and funded the construction of a classroom at Linda Community School, a school for 470 vulnerable children not far from the conference venue. The classroom formed part of a new school being funded by a U.K. Registered Charity, the Zambezi Sunrise Trust (www.zambezisunrisetrust.co.uk). Two of the charity's trustees, John Gillette and Jonathan Ashley – Norman Q.C., are English barristers. Readers at the Bar of England and Wales may have read more about this in the recent article in 'Counsel' magazine: www.counselmagazine.co.uk/articles/john-gillette-teesside-to-zambia .
The opening of the classroom was performed by the Secretary – General of the Commonwealth, Baroness Scotland Q.C., in the presence of conference delegates and legal dignitaries from around the Commonwealth. It was a memorable day, not least for children and a community not used to such attention. As importantly, it saw Grade 4 at the school introduced to their new classroom. The children at Linda Community School are selected by the local community based on their vulnerability (many are orphans). The new school facilities that we are building will help to secure their future, and the CLA classroom has played a major role in advancing that. It has been in continuous use since it's opening, providing a safe, clean and healthy learning environment that was not there before. On any given day, 52 children learn in the room using new desks and, thanks to the Law Society of Northern Ireland, they have access to books and other learning materials in specially constructed cupboards. Out of school hours, it can also be used for other useful community based activities. Our ongoing thanks go to all the CLA members who donated towards the classroom.
The CLA classroom is actually the first half of a two classroom block. The second half of the 'legal' block is being funded by an appeal to lawyers in the U.K. and dependencies. The Class Action Legal Challenge has received donations from barristers, solicitors, judges, chambers and firms and at the time of writing has already reached £7,566 of its £10,000 target. We would of course be delighted to receive further support from members of the CLA who may wish to help us finish the second half of the CLA's legacy block. Donations can be made through the Class Action fundraising page: www.goldengiving.com/fundraising/classactionlegalchallenge .
John would be delighted to answer any questions that members may have about the project and can be contacted at johncgillette@hotmail.com .
Thank you CLA!
Following the Zambezi Sunrise charity dinner, the annual update video features the CLA. Please take a look below: