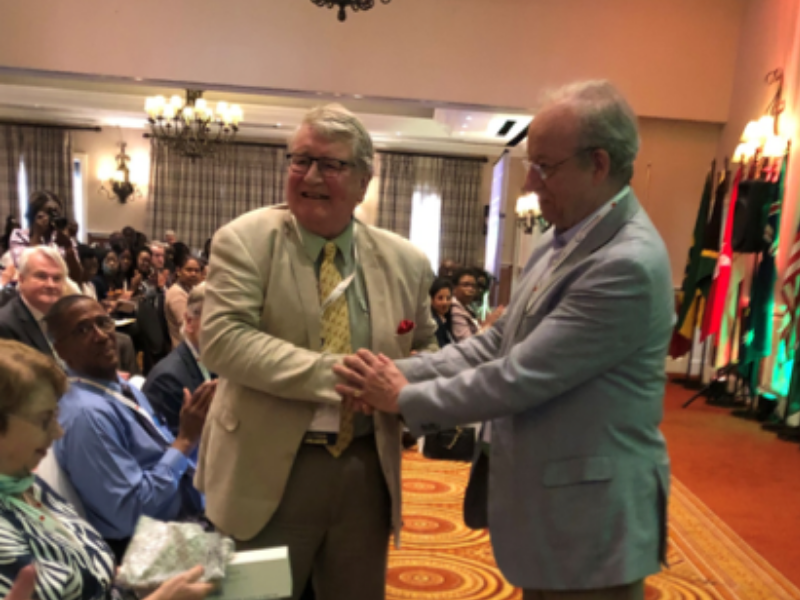 CLA News /

Dr Peter Slinn, longstanding member of CLA ExCo retires
Dr Peter Slinn, longstanding member of CLA ExCo has retired. He was honoured at CLC2019 with a tribute given by his long-time friend, colleague and fellow CLA member Dr Karen Brewer, Secretary General of Commonwealth Magistrates and Judges Association and a presentation by CLA's Hon. Treasurer, Laurie Watt:
"I have the privilege today to acknowledge on your behalf a particularly long standing contributor to the work of the Commonwealth legal fraternity and the CLA in particular – Professor Dr Peter Slinn, better known to us as our dear friend "Peter".
My knowledge of Peter's academic prowess predates my meeting him in person, as his article on the Joint Declaration was the inspiration behind my dissertation on the future of Hong Kong for my pre-doctorat diploma and subsequently for my PhD. Since then, I have come to admire his dedication to the advancement of the rule of law not only in Africa, which is his first love (after Margaret, his wife of course) but also across the Commonwealth. I have also been privileged to count him as a dear friend and mentor for over 30 years, ever since I started at the CLA when it was still based in the Law Society of England and Wales.
It is fitting that we are in Zambia today where Peter spent some time in his early career as a young solicitor working for the British Foreign and Commonwealth Office shortly before independence not to mention the fact that his academic career has also included time spent teaching students in Zambia.
Interestingly he admitted that when he applied for the job with the FCO in the early 60s that he had no knowledge of international law and even said at the interview: "I've never studied international law but I understand that all you have to do is look it all up in a book by some foreign sounding chap called Schwartzenberger". His studies at Oxford and London about the Commonwealth however, got him hired! Of course his knowledge and expertise in international law has much improved since then!
His academic career teaching international, constitutional and natural resources law, spans over 40 years at the School of Oriental and African Studies of the University of London where he became Head of the Law Faculty. Peter has also been a visiting examiner in a host of Commonwealth countries and even in retirement he took over as Director of the MA in International Studies at the Centre for International and Diplomatic Studies at SOAS and still continues to teach part-time as Professor of Law at the University of Notre Dame in London. His dedication as a law teacher and mentor has resulted in many of his former students becoming distinguished Commonwealth lawyers, judges or politicians, some of whom I know are here today.
Peter's contribution to the Commonwealth legal community has been immense. He was instrumental in establishing the Law Reports of the Commonwealth published by LexisNexis in 1985 and until 2016 was the co-editor of the Reports, which now counts over 138 volumes. He was also a co-editor of the Journal of African Law.
He is a founder member of the Commonwealth Human Rights Initiative; the Commonwealth Legal Forum; and the Latimer House Working Group, and he is currently UK Vice-President of the Commonwealth Legal Education Association, Chair of the Editorial Board of the Commonwealth Judicial Journal (the Journal of the Commonwealth Magistrates' and Judges' Association), and is a long standing member of the Commonwealth Lawyers Association's Executive Committee.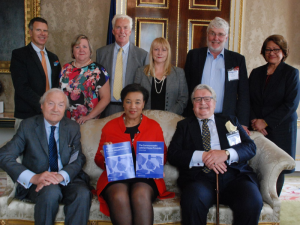 The Latimer House project team Back row: Mark Guthrie, Dr Karen Brewer, Keith Hollis, Katherine Eden Haig, Tim Daniels, Rita Payne. Front row: Colin Nicholls QC, The Rt Hon Baroness Scotland QC, Commonwealth secretary General, Dr Peter Slinn.
He drafted the Commonwealth (Latimer House) Guidelines on Parliamentary Supremacy and Judicial Independence at its first colloquium in 1998, a monumental achievement. Those of us who were present will recall him working on the draft until 4 am the night before their adoption. It was Peter's concision/precision that led the Working Group of Ministers and Commonwealth Associations to distil the Guidelines into the 10 Principles, which were endorsed by Commonwealth Heads of Government in 2003. They are now part of the Commonwealth Fundamental Values and incorporated in the Commonwealth Charter.
Peter is a valued member of the Latimer House Working Group and has continued to contribute in advancing the Principles, assisting with the drafting Nairobi Plan of Action for Africa in 2005 and the Edinburgh Plan of Action on the Implementation and Development of the Principles in 2008. He was one of my co-drafters of the Latimer House Toolkit and we are all looking forward to assisting the Commonwealth Secretariat in the roll out of it.
His expertise has been valuable in briefings and consultations on legal and constitutional issues arising in Commonwealth countries including the consultation on the Commonwealth Charter and the proposal for a Commissioner for Democracy, Rule of Law and Human Rights. His drafting of the CLA's public statements and conference resolutions, many with the CLA's partner organisations, and some of which you may have witnessed in the wings of these conferences, have been of immeasurable value to our community.
Peter has written and presented papers on rule of law issues at most of the Commonwealth Law Conferences over the last 20 years and chaired the Latimer House session yesterday. He has played a major role in the running of the Commonwealth Moot Competition since its creation over 25 years ago, helping to encourage the improvement of advocacy skills in young Commonwealth law students.
You may not be aware but in 1988, he was appointed Officier de l'Ordre des Palmes Academiques for service to Anglo-French co-operation in the field of the international law of development.
Whenever there has been a job to be done, Peter has been there; for the Conference, the CLA, its partner organisations, and those of us who have sought his advice on the common issues on which we have been engaged. He has been our mentor and our conscience!
Although he is retiring from the CLA Executive Committee after 20 years, he and Margaret know that we will still be relying on him for his support, that he will be eager to provide it, and when he is not providing it, we will be enjoying his company as we have always done and no doubt we will be calling on him to use his academically brilliant mind to keep advancing the Commonwealth fundamental values within our associations."
Dr Karen Brewer, Secretary General, Commonwealth Magistrates' and Judges' Association