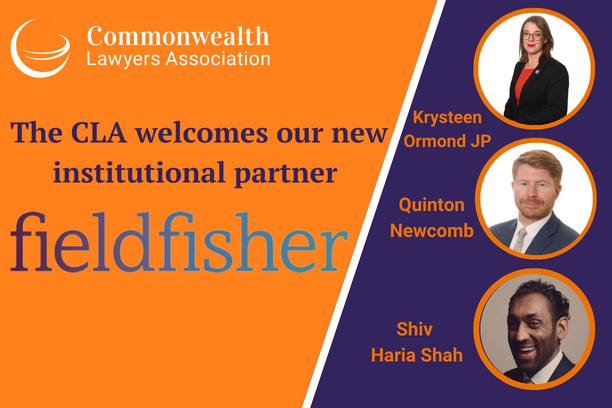 CLA News /

The CLA welcomes European Law Firm Fieldfisher as an institutional partner
Fieldfisher is a European law firm, with market-leading practices in corporate/M&A, finance, real estate, energy and natural resources, technology and life sciences. The global Dispute Resolution department represents clients from around the world and across all sectors.
Fieldfisher's lawyers advise some of the world's largest corporations including major technology firms, pharmaceutical and life sciences companies, energy suppliers, infrastructure companies, global banks and financial institutions. Fieldfisher prides itself on taking a collaborative approach with clients tailoring services to their needs and integrating cutting-edge legal technologies into its advice where possible.
Fieldfisher's international network now spans over 1,700 people across 26 offices in 12 countries, enabling the firm to seamlessly advise clients across time zones and disciplines. As of June 2023, Fieldfisher lawyers are now based in Amsterdam, Barcelona, Beijing, Belfast, Berlin, Birmingham, Bologna, Brussels, Dublin, Düsseldorf, Frankfurt, Guangzhou, Hamburg, London, Luxembourg, Madrid, Manchester, Milan, Munich, Paris, Rome, Shanghai, Turin, Venice, Vienna and Silicon Valley.
Fieldfisher lawyers regularly collaborate with lawyers from across the Commonwealth, and sponsored the inaugural "Peace at the Crease" cricket match during the Commonwealth Lawyer's Association annual conference in Goa. Partners, Shiv Haria-Shah and Quinton Newcomb, who organised the event, lead the Commercial Crime Team at Fieldfisher. Their team has close ties to no fewer than six Commonwealth countries and also contributes articles to the Commonwealth Lawyer Journal.
A Fieldfisher spokesperson said, "As a responsible and socially-conscious firm, we strive to lead from the front in our industry and make ourselves accountable for our actions. Our commitment to building a more sustainable and equitable future for our people, clients and communities is at the heart of our ESG strategy. We are so pleased to be able to put our values into practice as an institutional partner of the CLA."