Leah Almeida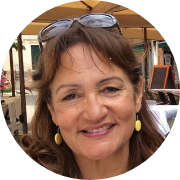 Leah Almeida was born and raised in Trinidad and Tobago.
She completed her A Level and Tertiary education in the United Kingdom and entered into a career in Travel and Hospitality in Dallas, Texas, USA.  While there Leah specialized in International Conference planning to include but not limited to airline negotiations, hotel contracts, Food and Beverage planning and budgets all the way to management of the conference on the ground.
Her experience spans over 20 years in the field which has taken her to all continents of the Globe with the exception of Antarctica.
Leah presently resides at Boxhill, Surrey in the UK with her husband John Almeida.