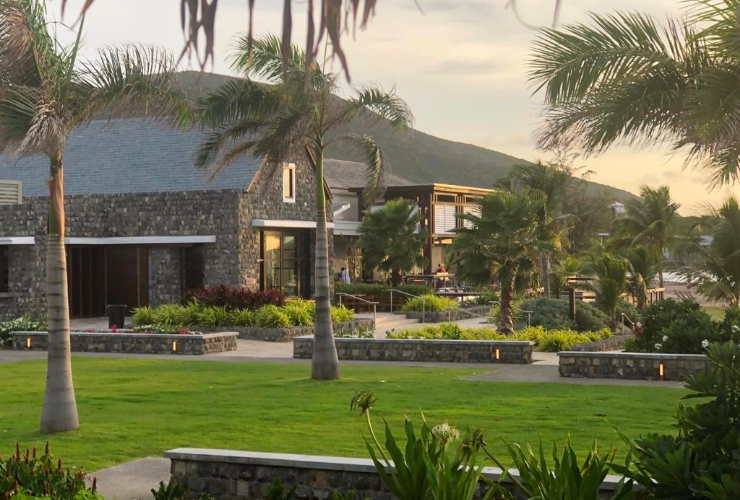 The Americas /

President's Blog: Mission Commonwealth Connect
The theme of this Presidency is one of 'Mission Commonwealth Connect' and I am honoured by the reception I have received at every destination.  My most recent trip has taken me to the Caribbean islands, to St Kitts & Nevis for the 15th Annual Regional Conference of the OECS (Organisation of Eastern Caribbean States) Bar Association. Over 100 delegates from across 9 islands assembled at Park Hyatt to discuss on various topics on the theme 'The Transforming Influence of Technology on the Law'.
The Conference was opened by Sir Samuel Weymouth Tapley Seaton QC, the Governor General of St. Kitts & former President and founding member of the OECS Bar. We were welcomed by our hosts: Thaddeus Antoine, President OECS Bar, Dahlia Joseph Rowe, President, St. Kitts Bar Association, Jean Dyer, OECS Regional Coordinator and Hon. Justice Janice Pereira, Chief Justice, OECS Supreme Court.
In tune with the theme the topics centred around Blockchain, Crypto Currency, Regulatory Sandbox, Complex Real Estate Transactions, Trade Agreements, Globalisation, Value of Digital Trade, Technology and the future of trading legal services across borders. In addition, there were sessions on Paper Committals and New Sentencing Guidelines for the OECS and a session on Necessity of Law Revision and Consolidation for Economic Growth. The quality of the speakers was excellent and the presentations not just confined to Lawyers. It was inspiring to be in the presence of informative and thought provoking discourse. Given the challenges and opportunities that technology presents to lawyers across the globe the conference gave a valuable forum for discussion.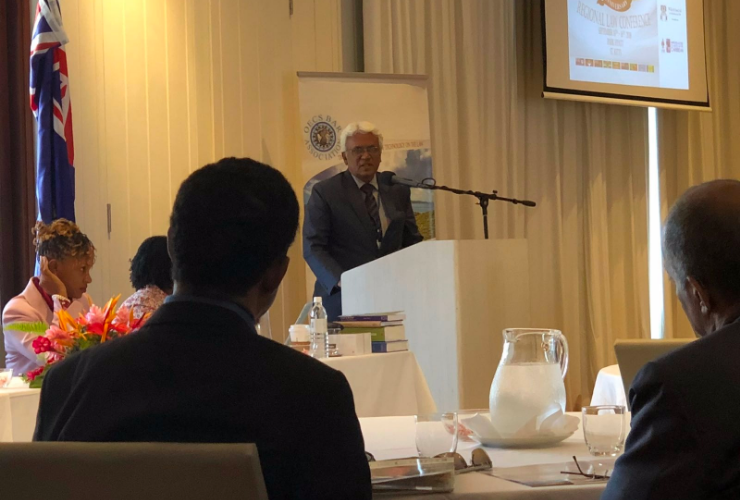 I was honoured to be invited to address the delegates and took the opportunity to extend an invitation for our forthcoming Commonwealth Law Conference in Zambia next April. The Gala Dinner was a gathering of the great and the good of the region and attended by Mr Harris, Prime Minister of St Kitts and Nevis. We heard an address from Mark Brantley, Premier of Nevis who also hosted a party on Nevis to celebrate 35 years of Independence.
It was an all too brief visit to the most beautiful of islands and I extend my gratitude to my friends and colleagues for the kindness of their hospitality and hope to see many of them again at CLC 2019 in Livingstone next year.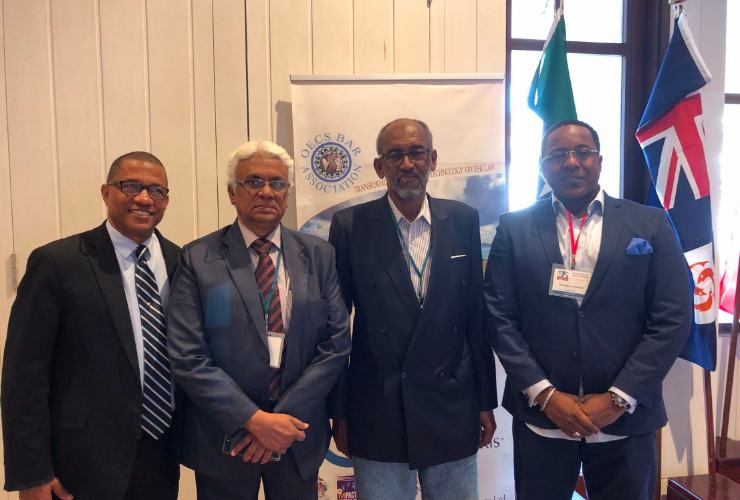 Ruggles Ferguson, President OCCBA; Santhaan Krishnan, President CLA; Peter Maynard, CLA Council; Thaddeus Antoine, President OECS Bar Association
R Santhanakrishnan
President