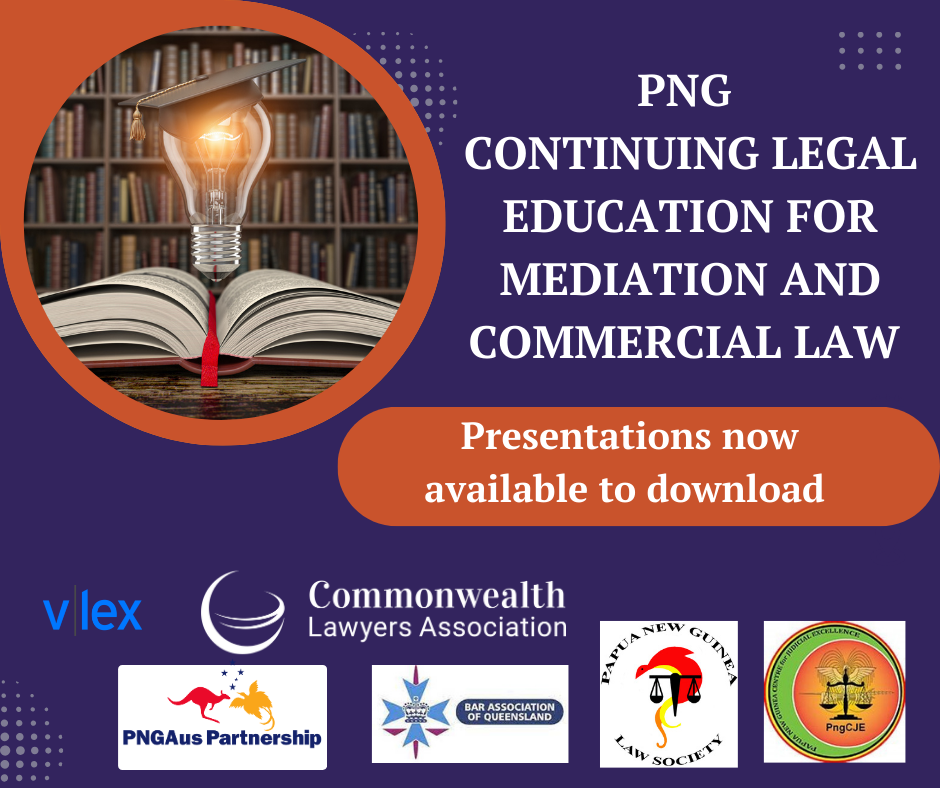 CLA News /

Report on the 5th September Continuing Legal Education event on mediation and commercial law in PNG
The Australasian Hub continued its busy education activities with a hybrid CLE event held in Port Moresby, PNG on 5 Sep 23. We had 165 in-person attendees and 117 online. In a country where CLE is not compulsory, this was good attendance and the first CLE event in PNG for many years. It showed the thirst and need for quality legal education.
When the CLA met with the PNG Chief Justice Sir Gibuma Gibbs Salika, GCL KBE CSM OBE, Justice John Logan RFD, Andrew Crowe KC, the Director of the PNG Centre for Judicial Excellence (PNGCJE) Dr John Carey (now Justice Carey) and the PNG Australian Partnership in late 2022 and asked what we could do to support PNG, without hesitation the response was legal education for lawyers. This was because there was generally no continuing legal education available in Port Moresby and PNGs 22 Provinces for the many thousands of practicing lawyers. They also expressed the need for a more sustainable local PNG program with PNG presenters, including females.
Presenter support was quickly offered by the visiting Queensland Bar, LLLS Lawyers PNG, Ashurst PNG and Allens Linklaters PNG. The PNGCJE provided administrative and funding support, the DFAT PNG Australia Partnership funded the Queensland Bar (in conjunction with their advocacy work at the PNG Legal Training Institute), the PNG Law Society provided funding support and vLex also provided support.
Deputy Chief Justice Ambeng Kandakasi CBE, a Justice of the PNG National and Supreme Courts, Justice Logan (Australian Federal Court and PNG Supreme Court) and Andrew Crowe KC of the Queensland Bar, gave an entertaining and informative presentation on Advocacy in Mediation which included the nuances of human behaviour and how PNG Melanesian culture lends itself to resolution of disputes by mediation.
Michael Sullivan, Managing Partner of LLLS Lawyers presented on the new regulatory framework for capital markets, PNGX Listing Rules and the new code for takeovers & mergers and how this also applies to non-listed companies and overseas companies.
Ricard Flynn, Managing Partner of Ashurst PNG, presented on personal property security law and explained that the code includes the buying and financing of goods, the super priority of purchase money security interests and how to use the personal property security register.
Sarah Kuman, Partner of Allens Linklater PNG, spoke on recent amendments to companies law, investment promotion/foreign enterprises laws and association and business groups laws and new regulatory enforcement measures with respect to reregistering requirements and filings compliance.
David Denniston of LLLS Lawyers and the PNG Council Member for the CLA, explained the role of lawyers in upholding the rule of law and explained where the rule of law was strong so to was the economy, education, health and peace and used supporting data from CLA partner the World Justice Project.
With particular thanks to Justice John Carey, the Director of the PNGCJE, PNGCJE Program Officer Vali Kila and Clera Aisi, LLLS Lawyers, without whom the event would not have been possible.
The link to the materials and recording is here and also the local publicity generated by the event 
David Denniston
CLA Council member for Papua New Guinea