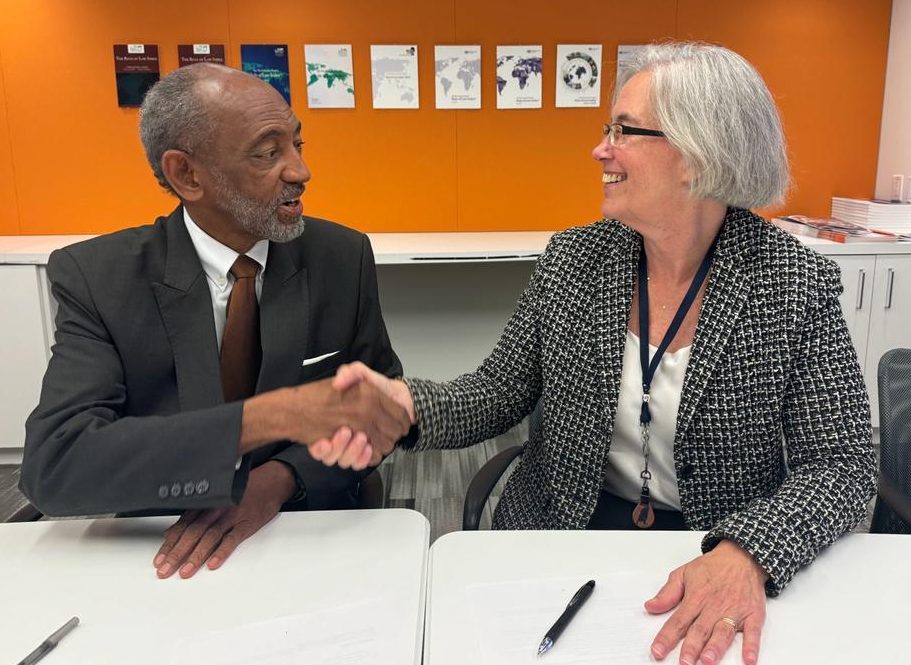 CLA News /

The CLA and the World Justice Project finalise an Agreement to collaborate in support of the Rule of Law
September 27, 2023 – The World Justice Project (WJP) today hosted leaders from the Commonwealth Lawyers Association (CLA) for the official signing of a Memorandum of Understanding to work jointly on rule of law issues.
Through this partnership, shared objectives will include monitoring and promoting judicial independence, highlighting the importance of environmental rule of law, and tackling the challenges of disinformation.
"We are delighted to deepen our collaboration with the Commonwealth Lawyers Association," commented WJP Executive Director Elizabeth Andersen. "The challenges to the rule of law globally are tremendous, and bar association leadership from organizations such as CLA are critical to turning the tide."
CLA President Peter D. Maynard KC and Human Rights and Rule of Law Committee co-convenor Sophie Stanbrook met Andersen and WJP Vice President Mark Agrast at WJP's offices in Washington, DC, to affirm the partnership and discuss ways to deepen cooperation between the two organizations.
"Our collaboration with the World Justice Project is a testament to our shared commitment to upholding the rule of law worldwide," added President Maynard. "Together, we stand ready to face the formidable challenges ahead, with the unwavering belief that collective leadership and dedication will indeed turn the tide in favor of justice and the rule of law."
Andersen, Maynard and Agrast were joined at the gathering by other prominent legal professionals, including from the International Bar Association, the American Bar Association, the American Society of International Law, and the International Legal Foundation.
The formal partnership between the CLA and WJP was established in May 2023 and builds upon existing collaboration, including CLA's participation in the WJP Asia Pacific Justice Forum in December 2022 and WJP's presentation at the Commonwealth Lawyer's Conference in March 2023.
On September 30, CLA will take part in the Asia Pacific Expert Meeting on Disinformation Regulation and the Free Flow of Information in Kuala Lumpur, Malaysia, which is being co-organized by WJP, LexisNexis, and the Human Rights Commission of Malaysia.
The CLA intends to support WJP's data collection for its Rule of Law Index and expansion of the Index into Commonwealth countries not currently included. The CLA and WJP will look for additional ways to collaborate, including consultation and sharing of information on rule of law issues, facilitating connections to each other's networks, participating in each other's events and capacity building activities, and pursuing joint research opportunities.
Read More on this partnership and access the World Justice Project press release