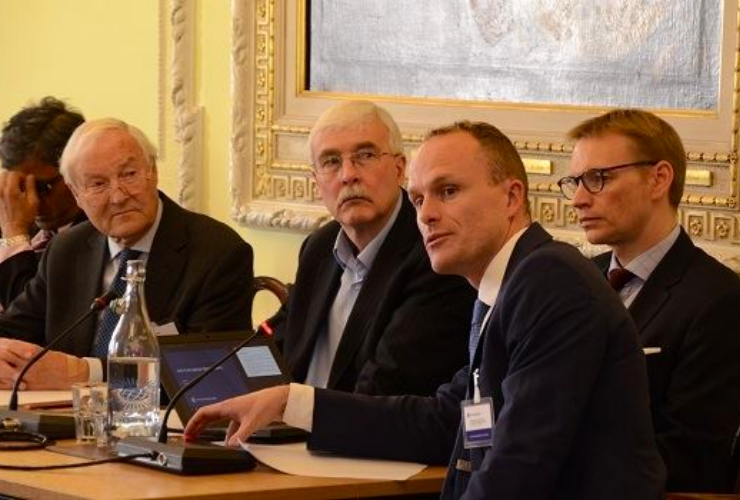 Europe /

Commonwealth Anti-Corruption Benchmarks
On 1 October 2018 CLA honorary life president Colin Nicholls QC chaired a side event at the Meeting of Senior Officials of The Commonwealth Law Ministries in London when Senior Officials were presented with the Commonwealth's proposed Anti-Corruption Benchmarks – a framework of minimum standards, which countries can use as a 'checklist' to measure their anti-corruption practices and make improvements as required.
Describing the benchmarks as an important advocacy tool to encourage Commonwealth countries to adopt high standards of good governance, he said the event would be followed by informal consultation with member countries to refine the benchmarks, with the aim of completing the work in time for the next Commonwealth Heads of Government Meeting (CHOGM) in Rwanda in 2020
The proposed benchmarks, developed in close cooperation with national standards institutions and professional membership bodies, were first unveiled at the 8th Commonwealth Conference of Heads of Anti-Corruption Agencies in Africa in May 2018. They will include practical guidance to Commonwealth member countries on clear steps that can be taken to promote integrity and combat corruption in government and public sector bodies; together with a simple 'checklist' against which progress can be measured.
Reflecting international best practice, they specify actions that can be taken to combat corruption, by national governments and public sector bodies, as well as success stories from governments and organisations as case studies.
The benchmarks are the latest in a series of key initiatives by the Commonwealth to strengthen anti-corruption measures in member countries, building on the Framework for Commonwealth Principles on Promoting Good Governance and Combating Corruption adopted in 2000, the establishment of the Commonwealth Africa Anti-Corruption Centre in 2013, and the Tackling Corruption Together international conference hosted by the Commonwealth in 2016.
Delegates welcomed the benchmark approach and requested the Secretariat to carry out a consultation process for all member countries.